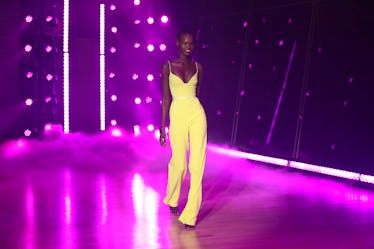 These Trendy Fall Jumpsuits Will Replace Every Cozy Dress On Your Roster
JP Yim/Getty Images Entertainment/Getty Images
Co-ords and rompers had a major moment at Coachella that continued on through the entire summer, which means their cold weather variation probably will, too. Fall 2018 jumpsuits will not only make cozy dressing easy and convenient AF, but they'll also infuse your wardrobe with touches of utilitarian cool and floral sweetness. Why wouldn't you want to stock up on pieces that are basically an all-in-one outfit?
This season's jumpsuit offerings span a variety of different styles and aesthetics. You've got the classic workwear jumpsuit that features a boxy cut, zip-up front, and collar, coming in an array of fabrics, including denim and cotton. Paired with sneakers, it's the perfect relaxed look. Then, you've got the slightly retro jumpsuits, which feature throwback floral prints, waist belts, and flared legs. Let's not forget about the super sleek and simple or femininely tailored iterations, either. Basically, no matter what fall occasion you're getting dressed for, there'll be a jumpsuit option to match. Because dresses and nippingly cold breezes do not mix well, am I right? Shop 12 of the coolest jumpsuits for autumn below and pick out a new fall jacket to layer on top. They also pair well with Pumpkin Spice Lattes.
Fall For Flowers
You could just as easily wear this style to the office as you could to a fall wedding. It's blooming with bright graphic flowers and features a simple wide-leg silhouette, rendering the ultimate cheery go-to piece.
Blue Jean Baby
Layer a leather moto jacket over this jumpsuit or a black, long-sleeved turtleneck for when the weather gets a little chillier. Patent heeled booties would complete the look.
Seeing Spots
Forest green is one of my favorite colors to wear during fall. I'd pair this spotted jumpsuit with a burnt orange peacoat for an especially striking look, or with a camel trench for something a bit more subtle.
Working Girl
No one will mess with you in this. Trust me.
Constellation Nation
Does this not remind you of a midnight sky dotted with tons of tiny stars? Appropriate, seeing as the jumpsuit is also reminiscent of pajamas both visually and comfort-wise.
Boho Babe
The ultimate retro babe uniform. I live for the square neckline, tailored bodice, and three-quarter length sleeves on this jumpsuit.
Party On
LBD what? This sleek red jumpsuit is as sexy as they come and will turn heads at any dressy event.
Grape Beginnings
Paired with matching plum lips and white boots like above, this is the ultimate monochromatic knockout.
Olive Twist
The colors, the subtle striping, the wrap-around waist belt — check, check, and check.
Dark And Stormy
There's nothing cooler than dark wash denim with exposed white stitching... except dark wash denim with exposed white stitching in structured jumpsuit form.
Garden Party
The complementary color palette of orange and blue, along with the floral pattern, give this breezy jumpsuit a cool '70s feel.
Sweet Thing
Thanks to its balloon sleeves, chiffon texture, floral pattern, and button-up bodice, this jumpsuit is feminine cool at its best.