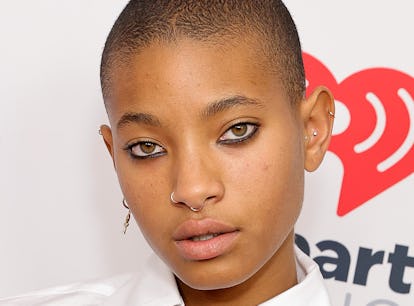 These 15 Facial Piercing Ideas Will Inspire Your Next Piercing Appointment
A little extra metal never hurt nobody.
Amy Sussman/WireImage/Getty Images
Move the bling party off your ears and onto the rest of your face by getting a facial piercing. You may not have thought about piercings beyond your eyebrows, nose, and your lips, but there's a whole world of piercing opportunity for you to add some metal and gems.
When getting a facial piercing, there are a few things you should do before showing up to your appointment. "Eat a healthy meal at least 4 hours before you receive your piercing. Drink plenty of water before and after," Brandon Simon, a senior piercer at Banter by Piercing Pagoda, tells Elite Daily. He also suggests that you "be open to your piercer's suggestions about jewelry selection and placement of your piercing." Sometimes your dream piercing doesn't quite work, can be at risk of moving as it heals, or just needs a little editing, so be willing to listen and adjust your plan.
Before deciding exactly what you want and where you'll put it, let's review the more obvious piercing spots. Having multiple ear piercings on your lobe to create the perfect stack is so commonplace now that you can buy pre-selected packs of earrings. (You can even buy them as cuffs.) Then there are conch, rook, and cartilage piercings, which have all become more trendy with the rise of constellation piercings. All of those piercing locations are lovely, but if you've already got a stud in each ear, facial piercings will feel like a new, exciting frontier.
Because there are so many different facial piercings you can get, this comprehensive guide to all the face piercings out there waiting for you will help narrow down where you decide to put your next one.
Armed with these ideas, the only thing left to do is to stock up on saline solutions and book your next piercing appointment.