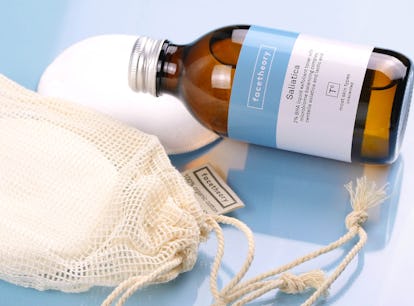 I Have Sensitive Skin & This Is What Happened When I Tried Facetheory's New Exfoliating Toner
We only recommend products we love and that we think you will, too. We may receive a portion of sales from products purchased from this article, which was written by our Commerce team.
My skin wasn't always sensitive. By some miracle, I made it through my childhood without any reactions to that '90s roll-on body glitter trend, and then I made it through puberty with minimal breakouts. It seems the older I get, however, the more I'm forced to pay my dues; I now have combination skin that switches between oily and so dry, it flakes when I apply foundation — and the slightest change in my minimalist skin-care routine could result in blemishes, dry patches, and dull skin. Needless to say, I was skeptical when I first read about the Facetheory Saliatica 2% BHA Toner T6, but after trying it myself, I'm officially a believer.
I'm not the only one, though. In addition to tons of glowing reviews from fellow people with sensitive skin, this versatile toner even has a clinical study to back up its results.
FAST FACTS
Suitable for most skin types, including those with acne-prone, oily, or sensitive skin
Exfoliates, clears, hydrates, and balances
Unscented, vegan, cruelty-free
No parabens, silicones, or alcohol
Costs significantly less than many other 2% salicylic acid toners (it's just $20 for 200ml)
Has an overall 4.7-star rating
Residue-free and doesn't require rinsing
365-day guarantee (replacement or refund)
Facetheory's new Saliatica 2% BHA Toner T6 uses thoughtfully chosen active ingredients (BHA, AHA, centella asiatica, and beneficial bacteria) so it can do four things at once: exfoliate, clear, hydrate, and balance. But unlike many exfoliators out there, this one is gentle enough for most of those with sensitive or acne-prone skin. The affordable formula also skips unnecessary, harsh, or cheap additives like parabens, silicones, mineral oil, and alcohol, which can cause reactions. Plus, it's cruelty-free and unscented.
My Experience Using Facetheory's Saliatica 2% BHA Toner T6
My skin responded extremely well to this toner right off the bat — which honestly shocked me. I didn't experience any irritation, papules, or breakouts (which happened with the few other chemical exfoliants I've tried). Here's what I did experience:
Minimal blemishes: I started testing this toner right before my period, during which I usually get several blemishes around my chin area. This time around, I only got one pimple — and it fully cleared up within two days.
Fewer blackheads: Like most people, I have blackheads on my nose and forehead that are pretty visible when I'm not wearing makeup. Since using this toner once or twice daily, my pores are smaller and the blackheads are less noticeable, so much so that I don't feel the need to wear as much makeup.
Fewer flakes: I get dry, flaky skin year-round. In winter, it's caused by cold, dry air, and in the summer it's caused by the sun. Right now, though, I'm experiencing very few flakes (even after wearing a drying foundation), and I can only assume it's due to this toner's exfoliating and moisturizing abilities. While my dry skin hasn't disappeared entirely, I'm hoping it'll continue to improve.
A brighter, smoother complexion: My flakes are often accompanied by a dull, rough complexion, but my skin looks significantly brighter and feels much smoother. I find I don't need as much blush, either, since my skin now has a naturally rosy tint.
A cleaner face: I wash my face with a liquid African black soap, which doesn't irritate my skin, but still gets most of the makeup and daily residue off — or so I thought. Every time I apply this toner after washing, I'm surprised by how much makeup comes off on the pad. By the time I'm done, I feel like my face is truly clean.
What Other Reviewers Are Saying
As previously discussed, I'm not the only person who loves this multitasking toner. Right now, it has an overall 4.7-star rating on Facetheory's website, and reviewers have used phrases like: "very impressed," "brilliant," "amazing product," and "the best I have ever used."
"I started using this around 2 weeks ago and can see a massive improvement in my skin," wrote one of many happy customers. "I built up the product usage as recommended and use twice daily with absolutely no problems, and I know it's making my skin feel great. Struggled with adult hormonal acne for years and this seems to really help keep the breakouts at bay."
But reviewer feedback isn't the only evidence. The brand actually conducted a clinical study of this toner, during which researchers monitored the skin of 19 volunteers. The results? After 28 days, participants saw on average a 31% decrease in whiteheads, an 82% decrease in papules, and a successful rebalancing of skin microbiota.
How To Use It — And Who Shouldn't
One of the best things about the Facetheory Saliatica 2% BHA Toner T6 is how easy it is to use. After cleansing your face, just dampen a cotton ball with the toner and apply it all over your face and neck (but steer clear of the eye area). You don't even need to rinse it off after application. After that, you can apply your favorite moisturizer and follow it up with sunscreen during the day. I've also been wearing it under my summertime makeup — a tinted CC cream with SPF — and it doesn't feel sticky, heavy, or greasy.
Even the most gentle chemical exfoliants may require that you build up a tolerance to them, so it's a good idea to start by applying this toner once a day to see how your skin reacts. If you don't experience any adverse reactions, you can use it up to twice daily. The most important thing to know, however, is that AHA exfoliators increase your skin's sensitivity to the sun, so if you're going outside, you'll really want to wear sunscreen.
Ample people with sensitive skin have seen amazing results with this toner, but that being said, there's never a one-size-fits-all solution — and some people shouldn't be using it. If you're allergic to asprin, under 18, or currently pregnant, skip this one. You should also proceed with caution if you're extremely sensitive to chemical exfoliants. Finally, don't use this toner if you're unable or unwilling to use sunscreen.
The Key Ingredients In Facetheory's Exfoliating Toner
A lot of thought (and testing) went into choosing the active ingredients, but at first glance, the acronyms and scientific words might seem a little overwhelming. Here's a breakdown of what they are and what they do:
Salicylic acid: A beta hydroxy acid (BHA) that chemically exfoliates dead skin cells , salicylic acid removes flakes, unblocks pores, and makes room for new cell growth. Since physical exfoliants can be particularly irritating for people with sensitive skin, they often do much better with a chemical exfoliant instead.
Lactic Acid: Lactic acid is an alpha hydroxy acid (AHA) that works well with BHAs, and the Facetheory toner contains 0.49% of it. Lactic acid gently breaks down the material that binds skin cells together, so it is touted for its ability to brighten, even, and soothe skin — especially for those with unwanted hyperpigmentation.
Centella asiatica: Both moisturizing and anti-inflammatory, this botanical extract works well when it comes to treating eczema. When used regularly, it may also increase collagen production, so your skin feels bouncy, moisturized, and refreshed.
Microbiome-balancing complex: Your skin has a natural population of beneficial bacteria that balance and protect it, and this complex keeps that colony healthy. That way, acne-causing microbes are better kept in check. This complex also regulates sebum production to help reduce papules and blackheads.
Final Verdict
Is this toner worth a shot? In my opinion, yes — especially if you have sensitive, combination, or acne-prone skin. If you're tired of trying out expensive beauty products that just end up taking up space in your medicine-cabinet graveyard or, even worse, cause tons of irritation, this $20 product has the science-backed ingredients to potentially replace every last one of them. Plus, since there's a 365-day money-back guarantee, I'd say you don't have much to lose.
Shop More Facetheory Favorites
This article was originally published on