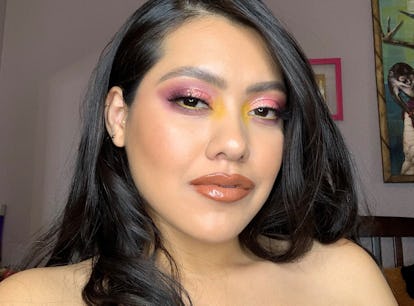 Meet The *Extremely* Talented Makeup Lovers Who Won e.l.f.'s "Game Up" Twitch Contest
Courtesy of e.l.f. Cosmetics
e.l.f. Cosmetics almost always has something up its sleeve, with the brand announcing challenge after hashtag after contest to draw more and more beauty lovers into the e.l.f. world. Naturally, when the brand set out to launch its e.l.f. You initiative with a Twitch channel in May — acknowledging that a love of beauty knows no bounds — it did so in true e.l.f. fashion: with a slate of bad*ss female gamers and a contest. Now, e.l.f. has announced the winners of this stacked competition whose game-ready makeup looks positively wowed the judges.
On May 9, e.l.f. debuted its Twitch channel with a livestream gaming event and simultaneous kicked off the "Game Up" Contest. Until June 6, gamers and makeup lovers around the globe submitted countless videos showcasing just how much makeup prowess they bring to the table when getting ready to stream. In the end, seven winners would be chosen to receive a high-spec 4K pro webcam, a professional broadcasting microphone, a selection of e.l.f. products, and a chance to stream alongside e.l.f. ambassador Loserfruit. Not a bad haul at all.
Each of these streamers brings a different makeup vibe to the table. Just like their approach to gaming, they all have very unique looks that are about to take over the discord wavelengths. Below, meet the winner of e.l.f.'s Game Up competition and find your next favorite streamer to stan.
Beauty lovers and gamers from around the world, welcome e.l.f.'s new "Game Up" winners.