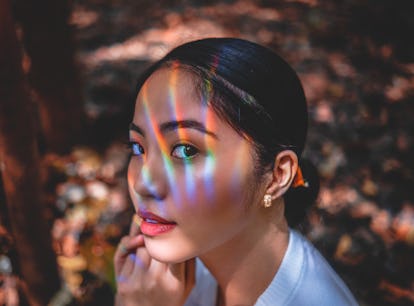 The Best Sunscreens To Apply Underneath Your Makeup This Spring Break
Don't leave home without 'em.
Melvin John Vito / EyeEm/EyeEm/Getty Images
The best sunscreens to apply under makeup need to do more than your standard beach vacay sunblock. SPF that works under a full beat is different than the SPF you'd wear for a day on the beach because in order to work under makeup, sunscreen should be sheer, blendable, and leave zero white cast behind.
Aside from protecting your skin from sun damage and not causing irritation, sunscreen that functions under makeup needs to work with, not against, it. Thankfully, there are a number of skin care brands that have caught on to this and are making sunscreens that smooth out skin texture, work like primers, and melt down to a velvet-y finish. If you're looking for the right sunscreen to bring with you on spring break, here's what you need to know.
"I always say the best sunscreen is the one that you're actually going to wear," says board-certified dermatologist Dr. Nkem Ugonabo, who recommends you stick to whatever brand or style of sunscreen you'll use everyday, whether that's chemical or physical, with a few caveats. "If someone is just starting sunscreen or they just want a suggestion, I do lean more towards mineral because sometimes chemical sunscreens can be a little bit irritating for people with sensitive skin."
If you're new to the sunscreen game — no shade, we all start somewhere — mineral sunscreens might be the way to go. Mineral sunscreen "creates a physical barrier on the skin," says Ugonabo, while chemical sunscreen, on the other hand, converts UV rays into heat. If you're trying to figure out which is which, try using the active ingredient method, as recommended by Ugonabo. "Every sunscreen you look at is going to have an active ingredients list. "If the active ingredients are a zinc oxide or titanium dioxide, then it's a mineral sunscreen. If it has other active ingredients like oxybenzone or octinoxate, a lot of them start with O, then it's a chemical sunscreen."
Below are 12 sunscreens — chemical, mineral, or a combination of the two — that won't mess up your makeup, period. That means no pilling, smearing, or sticky patches. Let's get into it.
We at Elite Daily only include products that have been independently selected by our editors. We may receive a portion of sales if you purchase a product through a link in this article.
Experts:
Dr. Hope Mitchell, M.D., board-certified dermatologist
Dr. Nkem Ugonabo, M.D., board-certified dermatologist