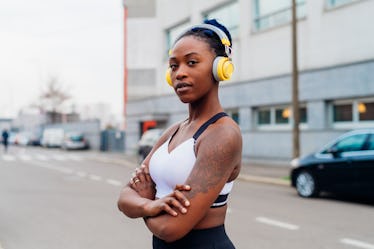 The 10 Best Push-Up Sports Bras
Eugenio Marongiu/Image Source/Getty Images
We may receive a portion of sales if you purchase a product through a link in this article.
Sometimes, I need a little extra boost to get myself to the gym, and if that boost happens to be in the form of a cute push-up bra, I'm all for it. While most traditional sports bras squish breasts together, creating that "smooshed" effect many of us are too familiar with, the best push-up sports bra lift and support, often with the help of padding (either removable or built-in) or an underwire.
What To Look For When Shopping For Push-Up Sports Bras
If it's maximum lift you're after, a padded sports bras is your best bet, since they'll bring breasts forward and up, similar to a traditional push-up bra. Some padding is removable while others are sewn in, but that choice is entirely up to you, since the effect will be similar. Encapsulating sports bras with an underwire lift and define breasts while adding extra support, since they individually cradle each breast, making this style especially great for those with larger busts. V-cut necklines and cheeky cutouts aren't just stylish, they can also naturally accentuate cleavage, while wide waistbands help keep everything lifted.
Since the "push up" effect can be somewhat subjective, I've also turned to the reviews for the consensus on just how much oomph sports bras provide — and the 10 on this list are the clear winners, as far as shoppers are concerned.
Whether you're looking for a subtle lift or mega volume, keep reading for a list of the best push-up sports bras, all backed by thousands of Amazon shoppers for their next-level lifting effects.