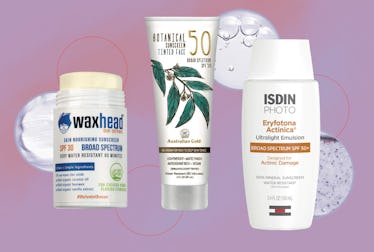 The Best Non-Toxic Sunscreens
We only recommend products we love and that we think you will, too. We may receive a portion of sales from products purchased from this article, which was written by our Commerce team.
Elite Daily/Amazon
The term "non-toxic sunscreen" is tricky to define, and often, labeling a product as "non-toxic" is a matter of marketing hype more than anything else. The most important thing about choosing a sunscreen is that it works for you so you use it daily, says board-certified dermatologist Dr. Orit Markowitz, who spoke to Elite Day for this article. "As long as they don't fall on any harsh chemical list or haven't been recalled, you should be in good shape," she says.
Dr. Markowitz adds, "If you're being cautious with all of the possible harshness of sunscreens, as well as the preservatives that can cause skin irritation, then you are most likely better off with a mineral sunscreen. Some of the natural blocking ingredients such as iron or titanium oxide are sunscreen in the purest form and are on all of the OK lists in terms of harsh ingredients, not damaging the environment, and lacking any chemical components that can be absorbed because they are physically on top of the skin."
Dr. Stacie J. Stephenson, chair of Functional Medicine at Cancer Treatment Centers of America, tells Elite Daily that she prefers mineral-based sunscreens over chemical ones, particularly those made with non-micronized zinc oxide or titanium dioxide. Dr. Stephenson advises patients to avoid oxybenzone, because of concerns it may act as a hormone disruptor (though it has not yet been definitely proven as having this effect in humans, Dr. Stephenson believes there's enough information to act with caution and avoid it), and likes sunscreens that contain antioxidants like vitamins C and E, "Because these add an additional layer of protection and can also help to repair existing skin damage."
With that in mind, keep scrolling to discover six of the best sunscreens you can feel good about using. But remember: If none of these sunscreens wind up working for you, the most important thing is to keep trying new ones until you find your perfect match — because sunscreen isn't toxic, it's vital.
Experts:
Board-Certified Dermatologist Dr. Orit Markowitz, M.D., Founder of OptiSkin, NYC
Dr. Stacie J. Stephenson, D.C., C.N.S., chair of Functional Medicine at Cancer Treatment Centers of America & Author, VIBRANT: A Groundbreaking Program to Get Energized, Reverse Aging, and Glow
Studies referenced:
Dermatological and environmental toxicological impact of the sunscreen ingredient oxybenzone/benzophenone-3 by Joseph C DiNardo, Craig A Downs https://pubmed.ncbi.nlm.nih.gov/29086472/