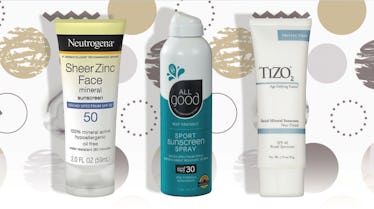 This Summer, Have Safe Sun With These Top-Rated Physical Sunscreens
Elite Daily/Amazon
Broadly speaking, any kind of sunscreen is better than no sunscreen at all. Dig a tiny bit deeper, and you'll find that sunscreens are divided into two categories: Chemical and physical. This choice, like many others, is a personal one — but for today's purposes, we're going to be talking about physical (or mineral) sunscreens. The best physical sunscreens will have an SPF of at least 30 and offer broad-spectrum sun protection, which means they'll protect your skin from both UVA and UVB rays. Aside from that, the best physical sunscreen for you will be the one that you actually end up wearing (every day, of course) — so go with the sunscreen that sounds the most appealing in terms of formula/consistency/et cetera.
But before you get to shopping, some background on how physical sunscreens work. Rather than employing chemicals that absorb UV rays, physical sunscreens are formulated with zinc oxide, titanium oxide, or a combination of the two. I recently spoke to dermatologist Dr. Orit Markowitz about mineral sunscreens (another name for physical sunscreens), and she explained that zinc and titanium oxide "act as microscopic mirrors" that sit on the skin's surface to "reflect harmful UV rays before they can penetrate your skin."
In addition to providing broad-spectrum UVA/UVB protection in a really cool way, zinc in particular comes with its own list of anti-inflammatory benefits — hence why you'll find it in some acne treatments — so sunscreens containing this mineral can actually benefit people who experience breakouts or irritation.
If you've decided to get physical, scroll on to shop six of the best mineral sunscreens you can get on Amazon.
We only recommend products we love and that we think you will, too. We may receive a portion of sales from products purchased from this article, which was written by our Commerce team.