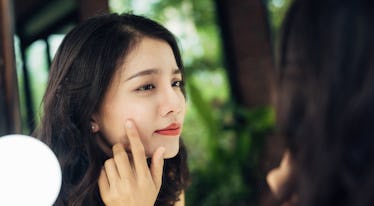 If You're Battling Acne, These Are The Products Amazon Customers Swear By
Makistock/Fotolia
Acne is a pain, but the best acne treatments on Amazon have their fans screaming that magic is real. But just like how acne can come in lots of different forms like pimples, blackheads, and whiteheads, so do acne-tackling products and choosing the right one is essential.
When it comes to active ingredients, they work in a variety of ways. Alpha hydroxy acids like glycolic acid and lactic acid help remove dead skin cells, stimulate the growth of skin, and reduce inflammation while benzoyl peroxide helps kill bacteria that causes acne and removes excess oil. In the right formulations, they can even work well together as long as your skin isn't too prone to sensitivity. Another popular ingredient, salicylic acid prevents pores from getting clogged.
However, starting with a gentler dose is always a good idea. Even if your skin isn't particularly sensitive, in many cases, lower doses of actives are just as effective as higher concentrations that are more likely to cause irritation.
The costarring products are important, too. To make sure you're treating your skin well, wash your face twice a day and after sweating with a gentle cleanser and then follow up often drying acne treatments with an oil-free, non-comedogenic (won't clog pores) moisturizer, says the American Academy of Dermatologists.
Below, the customer-approved best acne treatments on Amazon.