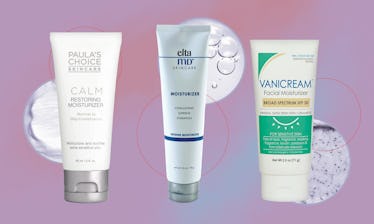 The Best Moisturizers For After An IPL Treatment
We only recommend products we love and that we think you will, too. We may receive a portion of sales from products purchased from this article, which was written by our Commerce team.
Elite Daily/Amazon
You can never go wrong with using a gentle moisturizer, but sometimes a less-is-more approach is a requirement. After an IPL treatment, for instance, you can expect your skin to be more sensitive and in need of some extra support as it heals. "Intense pulsed light (IPL) uses varying wavelengths of light to target blood vessels and pigment in the skin to reduce redness and sun spots," dermatologist Brian Hibler tells Elite Daily. The non-surgical treatment temporarily sensitizes the skin, which is why you'll want to have one of the best moisturizers for after an IPL treatment on hand. "It's important to support the skin barrier with a good moisturizer to help it heal," shares dermatologist Hadley King. "Look for humectants like glycerin or hyaluronic acid to hydrate the skin, emollients like ceramides or triglycerides to support the skin barrier, and occlusives like petroleum or beeswax to lock in [moisture]" Dr. King advises. Dr. Hibler adds that niacinamide is another helpful ingredient to look for in a moisturizer, as it can brighten skin while also providing anti-inflammatory benefits.
The Experts
Dr. Brian Hibler, M.D., is a board-certified medical and cosmetic dermatologist at Schweiger Dermatology Group in New York City. Dr. Hibler completed fellowships in laser and cosmetic dermatology at Harvard Medical School, Massachusetts General Hospital, and the Wellman Center for Photomedicine, and his expertise include injectable fillers, neuromodulators, and lasers.
Dr. Hadley King, M.D., is a board-certified dermatologist and founder of Dr. Hadley King Dermatology in New York City. She specializes in medical and cosmetic dermatology, and also serves as a Clinical Instructor of Dermatology at the Weill Medical College of Cornell University. Dr. King's research has been published in a variety of medical journals, and her expertise has been featured in numerous beauty and health publications.
IPL Aftercare Tips
"The skin may remain sensitive for a couple of weeks while it is healing, but it can remain sun-sensitive for longer," Dr. King shares of the recovery period for your skin post-IPL. To aid your skin in its recovery, the ingredients and products you avoid are just as important as the ones that you use. "While the skin is healing from IPL, avoid potentially irritating ingredients like hydroxy acids and retinoids," Dr. King recommends, adding that you should refrain from using any type of physical or chemical exfoliator. "After IPL treatment, a moisturizer should be reapplied at least twice a day," Dr. Hibler adds.
You can (and should) always discuss your post-procedure routine with your dermatologist, but generally, after IPL, you'll want to pare down your skin care routine to a cleanser, moisturizer, and SPF. "Use a gentle cleanser free of fragrance or potential irritants post-treatment," Dr. Hibler shares of simplifying your routine while your skin heals. "It's also important to use a broad-spectrum sunscreen, wear a hat, and try to avoid direct sunlight," he adds, noting that sun protection is extremely important after IPL.
Shop The Best Moisturizers To Use After IPL
In a hurry? Here are the best moisturizers for after an IPL treatment:
1. Best Moisturizer Formulated For Post-Procedure Care
Immediately after an IPL treatment, you can expect your skin to look a bit pink or red, and you may experience some mild swelling and stinging (almost like a sunburn). Elta MD's Intense Moisturizer was specifically formulated to treat post-procedure inflammation, and it doesn't contain any potential irritants like fragrance, parabens, and preservatives. Instead, the balm-like moisturizer uses two ingredients only: petrolatum and paraffin, which act as occlusives to seal in moisture and create a protective barrier over your sensitive skin.
Key Ingredients: Petrolatum Fragrance-Free: Yes Size: 2.8 oz
2. Best Gel Moisturizer
Gel moisturizers are typically preferred by those with oily and acne-prone skin because they don't add any heavy oils to the skin's surface. But Neutrogena's Hydro Boost Gel Cream doubles down on its moisturizing abilities without abandoning the lightweight formula that makes gels so popular in the first place. The oil-free and noncomedogenic moisturizer melts right into skin without clogging pores, but the glycerin and hyaluronic acid inside work to hydrate even the driest post-procedure skin (something that's especially helpful if you experience peeling as your skin heals from IPL).
Key Ingredients: Glycerin, Hyaluronic Acid Fragrance-Free: Yes Size: 1.7 oz.
3. Best Moisturizer With SPF
You'll want to avoid sitting out in the sun or engaging in any prolonged outdoor activities in general during the weeks after your IPL treatment. But even if you're just out running errands, it's important that you're diligent about applying (and reapplying) your sunscreen to avoid burning or irritating your skin as it heals. Vanicream's facial moisturizer uses zinc oxide, a mineral sun blocker, to provide broad-spectrum protection against UVA and UVB rays without the risk of irritation. To hydrate skin and immediately leave it feeling smoother, Vanicream uses a combination of glycerin, squalane, and barrier-protecting ceramides. And because the brand formulates its products with sensitive skin types in mind, the moisturizer is also noncomedogenic and free from dyes, fragrances, gluten, and parabens.
Key Ingredients: Zinc Oxide, Glycerin, Squalane, Ceramides Fragrance-Free: Yes Size: 2.5 oz.
4. Best French Pharmacy Moisturizer
For a French pharmacy moisturizer that's gentle enough to use throughout your post-IPL recovery process (and afterwards, too), La Roche-Posay's Toleriane Double Repair Face Moisturizer is a noncomedogenic option that leaves skin hydrated for up to 48 hours. In addition to go-to moisturizing ingredients like glycerin and vitamin E, the moisturizer also contains niacinamide and the brand's own thermal spring water, sourced from its namesake town in France, to soothe dry, irritated skin.
Key Ingredients: Glycerin, Niacinamide, Ceramide, Vitamin E, La Roche-Posay Thermal Water Fragrance-Free: Yes Size: 2.5 oz.
5. Best Soothing Moisturizer
If your skin is on the sensitive side, you may want to stick with a soothing moisturizer throughout your skin's healing process. This Paula's Choice Calm Redness Relief Moisturizer was created to reduce signs of irritation like dryness and redness with a blend of soothing botanicals like oat kernel extract and jojoba seed oil. The super-gentle formula also contains hyaluronic acid to draw in moisture, ceramides to promote a stronger protective barrier, and petrolatum to seal all that moisture in.
Key Ingredients: Hyaluronic Acid, Petrolatum, Jojoba Seed Oil, Ceramide, Squalane, Vitamin E, Oat Kernel Extract Fragrance-Free: Yes Size: 2 oz.
Experts:
Dr. Brian Hibler, M.D., board-certified and Harvard-fellowship trained medical and cosmetic dermatologist at Schweiger Dermatology Group in New York City.
Dr. Hadley King, M.D., a board-certified dermatologist and founder of Dr. Hadley King Dermatology in New York City.