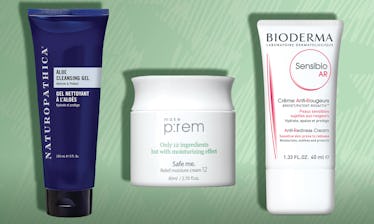 Your Official Guide To The Best, Gentlest Moisturizers For Dry, Sensitive Skin
Amazon/Bustle
It's no exaggeration to say that moisturizing is the most important component of taking care of your skin. But if you have dry, sensitive skin, you can't just choose any old face cream to do the job. The best moisturizers for dry, sensitive skin should be hydrating but gentle, free of harsh irritants (like alcohol and artificial fragrance), and full of strengthening and nourishing ingredients like hyaluronic acid, glycerin, or squalane. If a product says it's soothing or calming that's a good sign, too, since sensitive skin types are often prone to redness and inflammation.
If your dry, sensitive skin is a sign of an underlying condition like eczema or rosacea, you'll want to be even more picky about the formula choose. Those with eczema should opt for an irritant-free moisturizer that says it fights itching and flaking; even better if it's been accepted by the National Eczema Association. For rosacea, choose a redness-reducing moisturizer — you'll find a great one listed below.
To avoid exacerbating any existing signs of severe dryness or skin irritation, be careful with your other products, too. It's especially important to make sure you're using one of the best cleansers for dry, sensitive skin, since cleansers tend to be packed with skin-drying sulfates and harsh fragrances.
Outlined ahead are five of the best face creams for dry, sensitive skin, including an option with SPF and a lotion you can apply from head to toe.