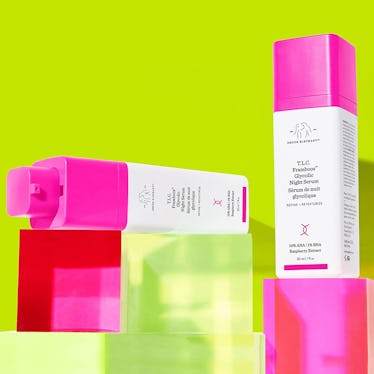 The Best Drunk Elephant Products For Acne
7 luxe products to keep your acne-prone skin happy and clear.
Amazon
We may receive a portion of sales if you purchase a product through a link in this article.
Typically, having acne-prone skin means you need to be a bit more careful about the products you use — meaning, you may not always get to experience the brands that everyone else seems to be talking about. But every so often, a brand like Drunk Elephant — whose luxury line includes several products that were designed to help treat acne — comes along that breaks the mold. The best Drunk Elephant products for acne include serums and creams that contain active ingredients like retinol to speed up skin cell turnover, or alpha hydroxy acids (AHAs) and beta hydroxy acids (BHAs) to exfoliate dead skin cells and clear away excess sebum. For acne that's also accompanied by redness, dryness, and sensitivity, the brand also makes gentle cleansers and soothing moisturizers that you can incorporate into your routine.
One of the reasons Drunk Elephant has generated so much buzz since its launch in 2013 is because of the brand's commitment to cutting out ingredients that commonly cause irritation and can lead to acne, including:
Essential Oils
Drying Alcohols
Silicones
Sulfates
Fragrances & Dyes
Chemical Sunscreens
If you're not ready to give up your luxury skin care habit, opt for any of the Drunk Elephant products featured below. From deep-cleaning cleansers to exfoliating night serums, each and every one of these products will help keep your acne-prone skin happy and clear.
Shop The Best Drunk Elephant Products For Acne
In a hurry? Here are the best Drunk Elephant products for acne:
1. Best Cleansing Bar For Acne
This exfoliating cleanser was designed to be used on the face, neck, and chest, but it only needs to be used two to three times each week to see results. Drunk Elephant's Juju Bar uses bamboo powder and thermal mud to gently exfoliate away dead skin cells and excess oil that can get trapped in your pores and cause breakouts. To prevent your skin from drying out, the cleanser also contains marula oil (Drunk Elephant's hero ingredient) and antioxidant-rich ingredients like sunflower seed oil, goji berry extract, and acai berry extract. Even though it's a bar soap, you'll still get the creamy lather of a liquid cleanser, just without any sulfates or other harsh cleansing agents that can strip your skin of the moisture it needs to maintain a healthy barrier.
Key Ingredients: Bamboo Powder, Heilmoor Clay, Marula Oil, Sunflower Seed Oil Size: 4 oz.
Relevant Review: "I've been using this soap on my very sensitive, acne prone skin for over a year now. It lasts awhile, cleanses face gently, and doesn't dry out my skin. It's a little more pricier than you average face cleansing bar, but it's well worth the cost."
2. Best Cleansing Gel For Acne
For an acne-friendly cleanser that's gentle enough to be used every day — but still tough enough to melt away makeup and other pore-clogging debris — try Drunk Elephant's Beste No. 9 Jelly Cleanser. The liquid cleanser can be massaged into wet or dry skin and uses a blend of coconut-based surfactants (instead of stripping sulfates) that create a lather to effectively cleanse your skin of makeup, sunscreen, and oil without causing dryness or irritation. You'll also find multiple soothing and hydrating ingredients in here, including marula oil, which also helps to break down makeup and sunscreen.
Key Ingredients: Glycerin, Cantaloupe Fruit Extract, Marula Oil Size: 5 oz.
Relevant Review: "I love this face wash. My skin was completely cleared of any redness or minor acne within a week of use of this product. It is THE BEST out of all the different face washes I have tried."
3. Best Serum For Acne
You've certainly heard about the benefits of using acids like AHAs and BHAs to treat acne, and you may have even dabbled in chemical exfoliants in the past. But Drunk Elephant's T.L.C. Framboos Glycolic Night Serum has become one of the brand's most beloved products because it combines both acids into a formula that doesn't wreak havoc on your skin. While glycolic, tartaric, lactic, citric, and salicylic acids work to loosen dead skin cells and clear out your pores, ingredients like raspberry fruit extract, cactus extract, and a hyaluronic acid crosspolymer help to soothe skin and improve hydration. In addition to keeping your pores clear from acne-causing debris, the serum's AHA and BHA combo also helps to improve your complexion's overall texture and tone.
Because of its potent blend, you'll want to reserve this serum for nighttime use only, starting with an every-other-night application as your skin adjusts to the active ingredients, and following up with a good moisturizer (as well as plenty of SPF in the morning, as AHAs can make your skin more sensitive to the sun).
Key Ingredients: Glycolic Acid, Tartaric Acid, Lactic Acid, Citric Acid, Salicylic Acid, Raspberry Fruit Extract, Cactus Extract, Marula Oil Size: 1 oz.
Relevant Review: "GREAT serum. I've seen a dramatic difference in my skin's texture, redness in my cheeks have minimized and so [have] dark spots and acne scars. It is an expensive item but one pump does go a long way - I can cover my face and part of my neck with just one pump.[...]"
4. Best Retinol Cream For Acne
Retinol is another one of those skin care superheroes that can help with everything from boosting collagen production to increasing skin cell turnover (which then helps with keeping your pores clear and preventing breakouts). The Drunk Elephant A-Passioni Retinol Cream combines a 1% concentration of the vitamin A derivative with nourishing fruit oils like marula, passionfruit, and apricot to minimize the dryness, redness, and flaking that so often occur when you first start using a retinol. A blend of peptides helps to further stimulate collagen production, and ingredients like glycerin, ceramides, and hyaluronic acid provide skin with more moisture.
This is another product you'll want to ease your way into, starting with applying just one to two times each week and gradually increasing the frequency to every other night as your skin begins to tolerate the retinol. If your skin is particularly sensitive, you can apply this over your evening moisturizer, but no matter how you use it, you always want to apply a mineral sunscreen in the morning, since retinol can also make your skin more photosensitive.
Key Ingredients: Retinol, Niacinamide, Peptides, Marula Oil, Passionfruit Seed Oil, Apricot Kernel Oil, Jojoba Seed Oil Size: 1 oz.
Relevant Review: "Best retinol formula I've found, worth every penny. Every other one I've tried made my skin red. A little goes a long way, so it lasts me awhile."
5. Best Moisturizer For Acne
One of the biggest mistakes you can make when you have acne-prone skin is skipping out on moisturizer because you think it will make your skin oilier. In fact, over-exfoliating your skin and not moisturizing enough can actually increase oil production, thus making your skin more susceptible to breakouts. Drunk Elephant's Protini Polypeptide Cream is a rich moisturizer that'll be especially helpful for anyone using exfoliating ingredients like AHAs, BHAs, and retinol. The gentle formula can be used morning and night, and it includes a combination of hyaluronic acid, marula oil, and peptides to leave your skin immediately smoother, plumper, and more hydrated.
Key Ingredients: Peptides, Pygmy Waterlily Stem Cell Extract, Marula Oil, Hyaluronic Acid Size: 1.7 oz.
Relevant Review: "I have super sensitive skin and I've been on a new acne treatment that makes my skin dryer than a parched wasteland and peeling like a lizard. This polypeptide cream has turned my sandpaper face into the smoothest and softest it's ever been. I've been applying it morning and night and my skin has never been better. No more weird flaky skin for me!"
6. Best Face Mask For Acne
If you're looking for a more concentrated treatment that you can incorporate into your weekly skin care routine, consider Drunk Elephant's T.L.C. Sukari Babyfacial. The potent at-home mask uses a blend of AHAs (25%) and BHAs (2%) to resurface your skin after just one 20-minute treatment. While this may sound a little scary, Drunk Elephant took multiple steps to minimize the risk of irritation, including adding soothing antioxidants like matcha tea and milk thistle, eliminating irritants like fragrant oils and alcohol, and ensuring the formula has the ideal pH level of 3.5. Plus, it comes with a mini version of the brand's moisturizing marula oil to apply post-treatment.
Key Ingredients: Glycolic Acid, Tartaric Acid, Lactic Acid, Citric Acid, Salicylic Acid, Cactus Extract, Passionfruit Seed Oil, Marula Oil, Niacinamide Size: 1.7 oz.
Relevant Review: "I never write reviews, but I found this gem from a YouTuber [who] spoke highly about this product so I gave it a try. [...] I was a little skeptical because my skin is super sensitive and prone to breakout to anything new, but surprisingly nothing bad happened, only great things. A little tingling at first nothing unbearable, my skin was super soft, all of the acne that I had shrunk and came to a head. After I took it off I used the little marula oil that came with it, and let me tell you...when I woke up the next day my skin was glowing like it never had before."
7. Best Lotion For Body Acne
Of course, acne isn't just restricted to the face. You can experience breakouts anywhere on your body, which is where an exfoliating moisturizer like Drunk Elephant's T.L.C. Glycolic Body Lotion comes in. The lotion uses those same AHAs found in the brand's serum to exfoliate away dead skin cells that can contribute to acne and a dull skin tone, while rich moisturizers like marula butter, shea butter, and squalane ensure your skin doesn't become dry and flaky. Because of its exfoliating abilities, the body lotion can also help with other similar skin conditions like keratosis pilaris.
Key Ingredients: Glycolic Acid, Tartaric Acid, Lactic Acid, Citric Acid, Marula Butter, Shea Butter, Niacinamide, Squalane, Marula Oil Size: 8 oz.
Relevant Review: "Such an amazing product. It smoothed out my skin texture already, and has helped with body acne."
About The Author
Marissa DeSantis has worked as a beauty writer and editor for nearly 10 years. Her pieces can be found across print and digital publications like Bustle, Evening Standard, Teen Vogue, and InStyle.