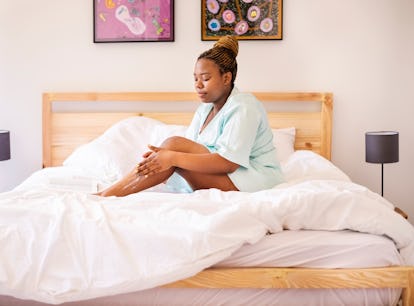 At-Home Hair Removal Is *Basically* Pain-Free With These 13 Products
At the end of the day, how you choose to manage your body hair is totally your call. But if you opt for hair removal at home, waxing is one of the best options. Back in the day, at-home hair removal could be messy, painful, and potentially dangerous due to chemicals found in hair-removal creams and a limited selection of waxing products that could lead to burns if heated incorrectly. Thankfully, times have changed. These days, the very best at-home hair removal products, according to experts and users alike, make the process relatively pain-free, affordable, and easy.
When it comes to at-home hair removal, many experts are fans of a good old-fashioned waxing with some modern updates for comfort and safety. This is, in part, due to the fast-acting effects and long-lasting results of waxing. "Compared to other forms of hair removal, like shaving, waxing removes the whole hair down to the follicle," says Angelica Sele, waxing expert and founder of Angelica B Beauty. "In time, the hair will become weaker and the follicle won't produce any more hair. Long term, it will lessen the amount of hair that you have."
The same goes for Nair-type cream removers, shares beauty expert and makeup artist Neil Scibelli. "I also tend to like waxing kits better because there aren't harsh chemicals and odors like some of the traditional hair-removing creams," he says. While waxing clearly comes out ahead of shaving and chemical creams, it might seem like a less-obvious winner when it goes head to head with IPL (intense pulsed light) technology that zaps hairs down to the follicle and slows or stops hair growth over time. "IPL can be extremely effective," says Scibelli, "but can take a little time, and may require more than one session to see total hair removal."
It's also expensive — the latest and greatest IPL devices are available at Target, but will set you back over $300 — and lasers can potentially scar or cause hyperpigmentation on deeper skin tones. "For those who have more pigment in the skin, waxing, especially with proper aftercare, won't cause or worsen hyperpigmentation," says Sele. "It reduces the chance of ingrown hairs and, unlike frequent shaving, it's less irritating to the skin — both can contribute to the discoloration of the skin."
When you consider all these factors, waxing is among the best at-home hair removal options, and these 13 products are among the best for at-home waxing, according to thousands of Amazon reviewers.
About The Experts
Neil Scibelli is an NYC-based MUA and beauty expert who focuses on sharing beauty education when he's not creating looks for celebrity and fashion clients. Angelica Sele is the founder of Angelica B Beauty, a licensed esthetician, and holistic waxing expert.
We only include products that have been independently selected by Elite Daily's editorial team. However, we may receive a portion of sales if you purchase a product through a link in this article.
Experts cited:
Angelica Sele, founder of Angelica B Beauty
Neil Scibelli, body care expert and MUA