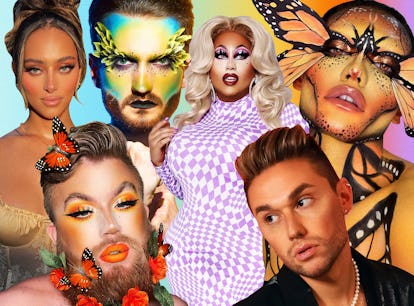 Meet Elite Daily's Beauty Court: 10 Iconic Influencers Breaking Beauty Boundaries
These LGBTQ+ beauty icons are here to stay, slay, and remind you to wash your damn face.
Julius Barnathan, Zak Taylor, Steven M. Koch, David Martinez, Christian Perez, Johnny Ross.
The beauty industry is always evolving, thanks in large part to folks who are willing to start a revolution. LGBTQ+ performers and artists are often responsible for injecting new life (and new looks) into beauty's mainstream culture and, TBH, they're owned thanks and a major round of applause for helping shape the exciting, vibrant, and expressive space beauty now occupies IRL and on social media.
Throughout Pride month, I had the lovely opportunity to connect with 10 individuals who have, each in their own way, changed the beauty game and continue to push its buttons and its boundaries. It's my immense pleasure to introduce you to Elite Daily's Beauty Court, a collective of artists who are challenging the tired and outdated definitions of beauty through artistry, advocacy, and self-expression. These models, content creators, and performers entered an industry that wasn't, historically, made for them and remade it in their own beautiful images.
Each member of Elite Daily's Beauty Court has become a force of nature — fronting campaigns for the likes of NARS Cosmetics and competing on RuPaul's Drag Race — but it didn't happen overnight. Ahead, our Beauty Court members weigh in on their ride-or-die beauty products, biggest influences, major moments, and how makeup has been an outlet for each of them in different and unique ways.