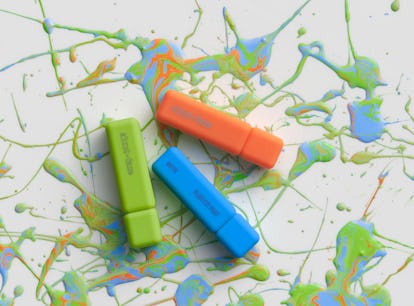 Halsey's about-face Line Just Dropped New Eye Paints, And I'm Obsessed
Courtesy of about-face beauty
I've been a fan of Halsey's beauty brand about-face and its Matte Fluid Eye Paints since day one. Whenever I'm feeling bold enough to try a Euphoria-inspired makeup look, I reach for Matte Fluid Eye Paints. Want to match my outfit to my cat eye? Matte Fluid Eye Paints. I'm not the only one. Beauty influencers on TikTok and Instagram skin care experts *adore* these little tubes of color, and as of today, March 23, we've all got one more — well, 11 more, actually — reasons to love these fantastic eyeshadows because about-face just dropped new matte fluid eye pant shades. Trust me when I say these 11 new shades are going to sell out fast.
If you're not familiar with these stellar little shadows, please allow me to introduce you. The Eye Paints are tubes of highly pigmented color that go on creamy and dry down to a smudge-proof powder. A lot of makeup enthusiasts, myself included, like to use precision brushes to create looks with these paints, rather than the doe foot applicator that comes with each tube. That said, the applicator is totally great if you're looking to create a wash of color like Halsey wore at the 2022 iHeartRadio Music Awards. With each shade, the color payoff is so intense and buildable that you're really getting two products in one: an eyeshadow and an eyeliner.
We only include products that have been independently selected by Elite Daily's editorial team. However, we may receive a portion of sales if you purchase a product through a link in this article.
The new shades were imagined with festival season ahead, Euphoria behind, and a world's worth of Fashion Weeks that focused on brightness and vibrancy. Like the previous Matte Fluid colors, these newest shades are, according to the brand, "part of Hasley's world of neverending experimentation, artistry and self-expression," which sounds about right given just how versatile these paints can be.
What colorways do the new Matte Fluid Eye Paints come in?
The newest members of the Matte Fluid Eye Paint family come in three color categories: soft pastels, brights, and primary colors. The soft pastels feature three new, dreamy shades: a creamsicle orange, ballet slipper pink, and a soft, rosy brown. The brights category has five new shades: vibrant pink, orange, lime green, sky blue, and purple. Finally, the primary colors are, as you might have guessed, super richly pigmented blue, yellow, and red.
How much do the Matte Fluid Eye Paints cost, and where can you buy them?
Shoppable now on aboutface.com — and bound to sell out quickly — the Matte Fluid Eye Paints are available in colorway bundles: The Brights ($96), Pastels ($56), and Primaries ($96), which features not only the three new shades, but two previous releases, black and white.