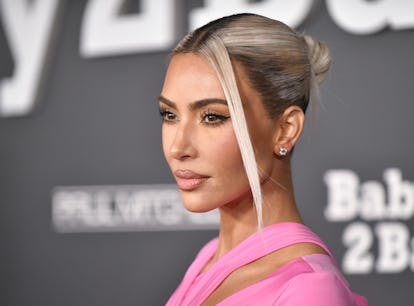 Where Kim K & More Stars Stand On Balenciaga's Controversial Ad
The bold, the bad, and the "disgusted."
Rodin Eckenroth/Getty Images Entertainment/Getty Images
The Spring 2023 Balenciaga controversial ad campaign sparked outrage almost as soon as it dropped. On Tuesday, Nov. 22, the brand released a series of photos featuring young children photographed holding teddy bears wearing BDSM-esque harnesses. As scrutiny intensified, critics on social media pointed out that other images included printed Supreme Court decisions over the legality of child pornography and a Michaël Borremans art book as props, the latter featuring, among other subjects, "naked children and adults engaging in cannibalism," according to reports. While the Spanish luxury label has apologized and scrubbed the images from the internet and is taking legal action against several parties involved with the shoot, fans are still clamoring for accountability from both Balenciaga and celebrities associated with the brand.
In the week since the photos were posted, celebrities like Bella Hadid, Bethenny Frankel, and Kanye West have shared, or appeared to share, their opinions on Balenciaga's controversial ad. From issuing a written statement like Kardashian to removing some, but not all, brand-related Instagram posts from their feeds like Bella Hadid, celebrities are speaking out against the sexualization of children.
However, some fans are disappointed that so few A-listers have issued statements of condemnation over the campaign. As one Twitter user wrote, "When Elon Musk bought Twitter, I saw celebrities noticeably upset. Some even bought Volkswagens. We heard "Stay home. Save lives." From almost every celebrity in cute pajamas on IG. But when it comes to Balenciaga sexualizing children, silence." While there hasn't been a huge outcry among celebrities yet, there have been a handful of stars who have spoken up about the ad. Here's every celebrity comment — or potential commentary — on the controversial Balenciaga ad.
Elite Daily will continue to update this story.
This article was originally published on