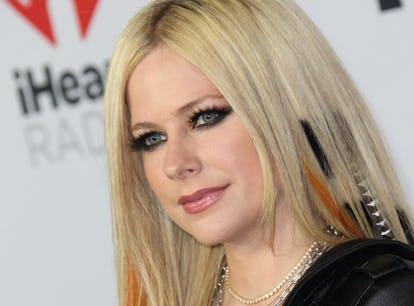 Avril Lavigne Wore A "Break My Heart" Blazer Post-Split With Mod Sun
Call it revenge dressing.
Toni Anne Barson/WireImage/Getty Images
Avril Lavigne is bringing her edgy post-breakup style to Paris Fashion Week. The singer has made a point to pick pieces that, well, make a statement — literally. From a not-so-subtle graphic t-shirt to a blazer emblazoned with "hidden messages," Lavigne's outfit choices have been saying a lot, even if she hasn't outright claimed that "Love Sux" yet.
On Feb. 21, Lavigne's rep confirmed her breakup with Mod Sun, ending their 10-month engagement and three-year relationship. A source told People that the pair were "on and off for the past two months, but are no longer together as a couple." Mod Sun, however, had a different response to the rumors — and Lavigne's confirmation. His rep claimed to People, "They were together and engaged as of three days ago when Mod left for tour so if anything has changed that's news to him."
On Feb. 28, Mod Sun seemed to double down on the idea that he was blindsided by the split. He wrote on IG, "In 1 week my entire life completely changed…I just know there's a plan for it all. I'll keep my head up + always listen to my heart, even when it feels broken 💔." But wait! The same day Mod Sun posted his IG, Lavigne posted a series of photos in a Vetements blazer, which featured writing like, "Break my heart" and "Be patient. Good things take time."
Then, on March 1, Lavigne was photographed in Paris wearing a t-shirt that read, "I'm not doing sh*t today," which she paired with thigh-high leather boots. To really drive that message home, she did a mini-photoshoot in the outfit, captioning her IG, "I'm not doing sh*t today @vetements_official 🖤." (Does attending Paris Fashion Week not count as doing something today? Just wondering.)
Here's to breakup fashion that quite literally speaks for itself — and (hopefully) another angst-filled album to come from Lavigne. You can only listen to "Complicated" so many times before you need to switch it up.