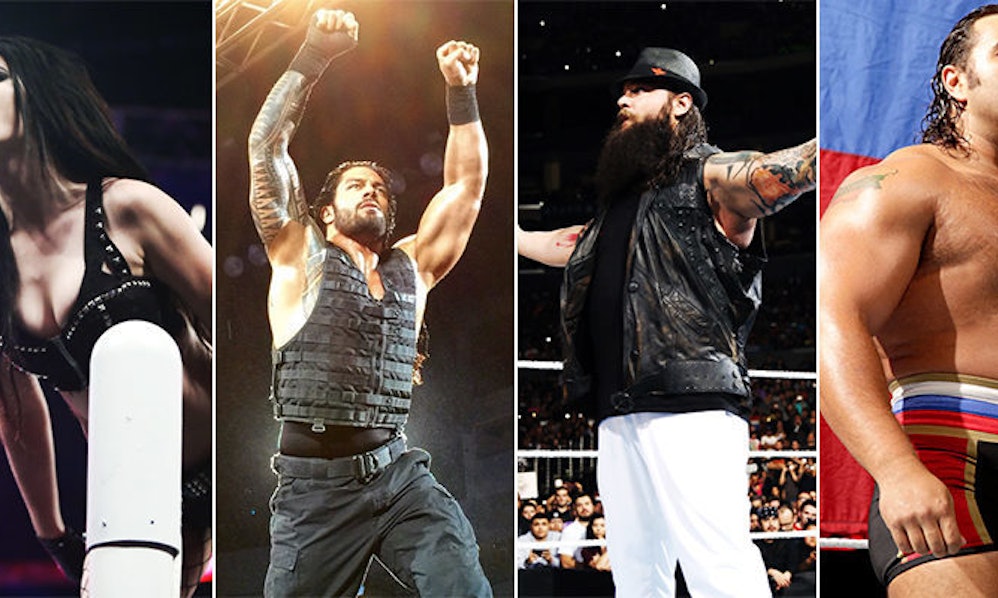 Instagram/WWE
Wrestlemania 31 Will Restore Your Faith In The Future Of Wrestling
While I was growing up, there were only a few things I looked forward to; one of those things was Wrestlemania. Thanks to my dad and the Southern Command Network, I grew up a huge wrestling fan.
Throughout most of the 90s and early noughties, I watched in awe as the New Generation Era and Attitude Era wrestlers completed superhuman feats on a weekly basis.
And, even more outstanding were the feats and matches that occurred in the different Wrestlemanias.
Matches involving Bret Hart, Shawn Michaels, Stone Cold Steve Austin, The Rock and The Undertaker (among others) were bound to leave you speechless.
WWE on YouTube
Ask any hardcore wrestling fan, and he or she will tell you those were the good ole' days of wrestling. But, unfortunately, for fans who watched wrestling in the aforementioned years, the WWE started to disappoint after the mid-2000s.
The PG era brought us some very cringeworthy moments and wrestlers — or, rather, "Superstars," as they are called nowadays.
Only a handful of things were still entertaining, like Undertaker's undefeated Wrestlemania streak, Edge's rise to prominence and the Money in the Bank Ladder matches.
All things considered, it's an era most of us would like to forget. Wrestling fans around the world cried for a change.
This year's Wrestlemania might just be the moment we have all been waiting for. The four-hour wrestling extravaganza looks extremely promising:
Kickoff Pre-Show: Fatal 4-Way Match for the Tag Team Championships
Andre The Giant Memorial Battle Royal
AJ Lee and Paige vs. The Bella Twins
Seth Rollins vs. Randy Orton
John Cena vs. Rusev for the United States Championship
Seven-Man Ladder Match for the Intercontinental Championship
Bray Wyatt vs. The Undertaker
Sting vs. Triple H
Brock Lesnar vs. Roman Reigns for the WWE World Heavyweight Championship
The mixture of old-school wrestlers, particularly Sting, and promising stars like Dean Ambrose, Rusev and Paige, makes this Wrestlemania mouthwatering.
Not only will it fulfill the dream of most, if not all, wrestling fans of watching Sting wrestle in a WWE ring, but it could also help to establish the new crop of wrestlers by allowing them to have their own Wrestlemania moments.
A perfect example of this could be the Wyatt vs. Undertaker match.
The Undertaker is among the most celebrated, popular and amazing wrestlers to ever set foot in a wrestling ring. Sadly, all good things come to an end.
His amazing career is all but over and WWE needs someone to replace his enigmatic, dark, powerful presence. Bray Wyatt could just be the person to carry on 'Taker's legacy.
WWE on YouTube
His promos are great; his entrance is spooky (and similar to 'Taker's); he can hold his own in the ring with some good moves and is an awesome and innovative finisher (which has a creepy name – "Sister Abigail").
The only thing missing is his Wrestlemania moment. If all goes well, The Undertaker will pass the torch to Wyatt, sending "The Eater of Worlds'" career to new heights.
Another reason to be optimistic about this 'Mania is the fact that the secondary belts — the Intercontinental Championship and United States Championship — will probably regain some of their lost prestige. Those two championships used to mean quite a lot.
WWE on YouTube
They were the second-most important championships, back in the day.
The IC championship was given to the WWE (then WWF) wrestler who would most likely receive a push toward stardom. The US championship served the same purpose, but in a different promotion (WCW).
Wrestlers who held those belts were highly respected. They even headlined pay-per-view events. Unfortunately, this changed during the PG Era, when those belts lost most of their value.
Gone were the days when prominent starts sought the IC championship, let alone fought for it in spot-ridden matches, like the ladder match between Shawn Michaels and Razor Ramon at Wrestlemania X.
baurzhan bah on YouTube
Just by looking at the wrestlers involved in both the IC and US title matches and the amount of exposure the storylines of both championships have received in the past few weeks, we can expect pretty good things.
The biggest question mark, however, is the match for the WWE World Heavyweight Championship.
Although Brock Lesnar, the "reining, defending, undisputed champion," as Paul Heyman would say, is an outstanding athlete, the same cannot be said about Roman Reigns — at least not yet.
The Samoan athlete, who comes from a family filled with current and future wrestling Hall of Famers, has not yet won the affection of the WWE Universe, much less the affection of hardcore wrestling fans.
Don't get me wrong, though; he did have a good run as part of The Shield. Along with his Shield brothers, Dean Ambrose and Seth Rollins, Reigns had great matches and very interesting storylines. But, once the stable was disbanded, Reigns suffered a bit.
A couple of reasons for this are his subpar mic skills and the lack of a diversified move set. Some fear this match will end up being a mirror image of the Goldberg vs. Lesnar match, which took place at Wrestlemania XX.
Fortunately, for Reigns and all wrestling fans, Lesnar has matured and has probably learned quite a bit since then. He will, more than likely, be able to tell a compelling story during their match, even considering Reign's lack of experience.
My biggest hope is for this Wrestlemania to conclude a lackluster era and kick-start a better one. The board is set; all the pieces are in place, and the crowd is eagerly awaiting the bell to ring.
The dawn of a new age could be right around the corner — a new age that can restore wrestling to its former glory.
Wrestlemania, we are counting on you.