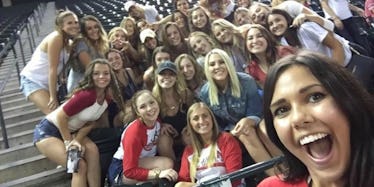 Sportscasters Show Women Taking Selfies At A Baseball Game No Mercy (Video)
This is what happens when the Arizona Diamondbacks play the Colorado Rockies in a meaningless game at the end of September.
Last night, during the fourth inning of that game, a group of young women completely ignoring the baseball and playing with their phones was spotted in the crowd.
Some of them were texting, most were taking food selfies and the television sportscasters went berserk once they saw what was happening.
These guys didn't just comment on the fact that every single woman was on her phone; they rained insult after insult down on this crew.
But first... let us take (lots and lots and LOTS) of selfies. Posted by 120 Sports on Wednesday, September 30, 2015
The selfie-obsessed got the last laugh, though, when the Arizona Diamondbacks invited them to take one big group selfie!
Yep, we got the experts themselves to take a #selfie on our @Snapchat! (Username: dbacks) pic.twitter.com/2jIS2uqYoC — Arizona Diamondbacks (@Dbacks) October 1, 2015
You get a selfie! And you get a selfie! Everybody gets a selfie!