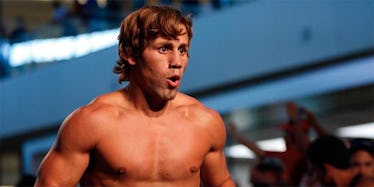 A Woman Broke Into A UFC Star's Home And Sh*t And Threw Up Everywhere (Video)
Urijah Faber is tough, but even he needed help from police with this one.
Over the weekend, the bantamweight competitor had a woman knock on his door and, without explanation, run into his house and lock herself in the bathroom.
A 911 call later, police arrived at Faber's house to find the woman had thrown up all over his floor and taken the liberty of relieving herself.
It's definitely a weird story and, luckily, Faber got it all on Snapchat.
One user was generous enough to put the serious of videos together showing the police's investigation into the matter.
You will laugh.
Check out the video above for the details.
Citations: UFC Fighter Suffers Weird Break In At His House (The SPORT Bible)