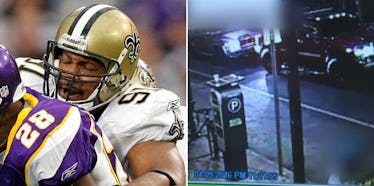 New Video Raises Many Questions Over Super Bowl Champ's Death
REUTERS/Eric Miller/YouTube
Early Sunday morning, it was reported former New Orleans Saints captain and Super Bowl champ Will Smith was shot to death after his car was rear-ended last Saturday night.
According to the police report from the incident, Smith and his wife's Mercedes was hit from behind by a Hummer H2, leading to a verbal altercation that ended in Smith being shot dead and his wife being shot in the leg.
As tragic as the incident is, that all sounds pretty cut and dry.
However, according to a new surveillance video, it appears this story has many more questions than answers.
For starters, it appears Smith's and his shooter's cars were stopped at a red light across the street from where the two vehicles initially crashed. Then, it appears the two vehicles tailed one another on the street perpendicular to where contact was eventually made.
Finally, at about a minute and a half into the surveillance video, you can see what appears to be Smith's Mercedes bump into a red Hummer, presumably the vehicle of the shooter.
Smith's Mercedes then appears to flee the scene after the red Hummer pulls over, which appears to lead to the Hummer chasing after the Mercedes.
Is it possible Smith started the incident by bumping and running? Was there something that happened before not caught on camera?
We'll provide further details as they become available.
Citations: Footage Of The "Hit And Run" Prior To Will Smith's Shooting (Barstool Sports)