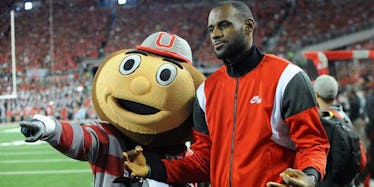 Back To School: 5 Reasons Why College Football Is Better Than The NFL
Facebook
This week marks the glorious return of college football, which, to many people, is the greatest sports season of them all.
Not only does it revolve around America's favorite sport, but it is also combined with insanely loyal fans, over-the-top traditions and an energy that's unlike any other pastime in the world.
But, college football isn't just for the students of a university or its alumni; it's for any fan who joins in the celebration.
Here are the five reasons why college football is better than the NFL:
1. The Fans
NFL fans are great, but college football fans are even more dedicated.
A lot of this commitment and enthusiasm comes from the school pride because college fans live, breathe and sleep for their favorite team. It's the perfect chance for fans to throw on their school's colors and scream the Alma Mater in hopes their team wins.
The fans aren't just limited to the students; entire communities and alumni from around the world gather around to cheer on their teams.
If it's not enough to cheer on your school, college football fans are also great at bashing other schools. Some of the funniest and most eye-catching signs are from, you guessed it, college football.
The fans are completely diehard, and they're more than a group of people routing for the same game outcome; they're a family.
2. School Rivalries
Whether we're talking Army vs. Navy or Michigan vs. Ohio State, there are plenty of school rivalries to get fans going.
Some rivals, such as Lehigh vs. Lafayette, have gone on for over 100 years, and they have been the highlights of each school's football schedule.
School rivals aren't always just about beating the other team; it's about upholding the school pride. They are always followed with traditions and (sometimes) a week full of game-day preparation for the fans.
One of the best rivalries, Alabama vs. Auburn, is so large, it demands the attention of the entire state and it can divide a population. (Just think back to 2010, when an angry 'Bama fan poisoned Auburn's beloved Toomer's Corner oak trees and spent jail time for his actions.)
3. "College GameDay"
Not only is this the best college football pregame show, it's the best pregame show of any sport.
Thousands of fans waking up at 5 am to surround the set with clever signs, Lee Corso picking different headgear each week, fans booing him when he picks the "wrong" one and bulldog puppies falling asleep on the desk is must-see TV.
It brings a unique life to the game, and it allows fans who are watching at home feel like they're at the college campus for the game, instead of on the couch.
4. College Campuses and Stadiums
In college football, the entire school's town gets amped up for game day.
College towns like Happy Valley come alive on Saturdays when the team plays, and the campus is full of school spirit. Each college campus has its trademarks, but what really stands out on Saturdays is the stadiums.
Places like Beaver Stadium, Tiger Stadium and Neyland have carried on legacies across the country for their hostile-playing, game-day environments.
Regardless the stadium, what really carries college football is how crazy the student section gets during the games.
Whether it's "Sweet Caroline" or "Jump Around" being blared, you'll always be able to recognize the student section in any stadium.
5. The Traditions
What makes college football different from any other sport is the game-day traditions that connect alumni, current students, future students and casual fans.
Some traditions are as simple as cheers and uniforms, but some schools have unique game-day rituals passed down for decades.
For people who couldn't buy a ticket, Tightwad Hill is one of Cal Berkeley's best spots to enjoy the games, and it's a way to encourage everyone to watch the action.
Every university has its calling card, and whether it's Miami's smoke tunnel, Mississippi's Grove or Texas A&M's "Midnight Yell," each tradition tells a story.
College football takes a beloved game and combines it with school pride, years of tradition and the most passionate fans.
Those three factors go above any other sport in the world.