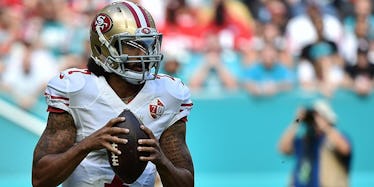 3 Simple Facts Prove Colin Kaepernick Not Getting Signed Is About Politics
REUTERS
Months after sparking a national controversy by kneeling during the national anthem, Colin Kaepernick is now unemployed, and no team seems willing to sign him.
That's not really a surprise, to be fair.
Once he attracted coast-to-coast attention for "snubbing" the flag, experts predicted teams would avoid signing the 29-year-old quarterback, regardless of how well he played.
Those predictions were made, however, specifically because experts are familiar with how NFL owners and general managers think.
One of those experts, Bleacher Reports's Mike Freeman, quoted an anonymous team executive saying,
I don't want him anywhere near my team. He's a traitor.
In other words, the fact that no team has signed Kaepernick yet has little to do with actual talent. It's mostly about not liking his stance and the way he expressed it.
Still, there's an idea floating around football-related conversations that goes along the lines of this: Teams are afraid of signing Colin Kaepernick because of bad publicity, but he sucks anyway so they're justified in not picking him up.
In my opinion, that notion is absolutely ridiculous.
It's one thing to say lots of people were offended by Kaepernick's gesture (that is a fact, regardless of whether you supported him doing so or not).
It's an entirely different thing to pretend that, even without the protest, a lack of talent on Kaepernick's part would make him a risky investment anyway.
Here are the legitimate reasons why Colin Kaepernick deserves to be signed.
1. Even quarterbacks who suck make a lot of money.
While Colin Kaepernick remains unemployed, Brock Osweiler has a contract that pays him $16 million per year.
Osweiler has been so bad, one NFL analysts had to try to find reasons to defend him:
Well every week we watch tape on the Houston Texans and we watch Brock Osweiler. I'm trying to find every reason not to say that he's a terrible football player.
Meanwhile, 37-year-old Josh McCown got signed by the Jets.
McCown has never once held a starting job for a full season, which explains the D+ rating ESPN gave the signing.
Elsewhere, Mark Sanchez is getting calls for NFL jobs. That is, "butt fumble" Mark Sanchez.
The bottom line is players who are far less experienced and far less talented than Colin Kaepernick are making money in the NFL.
2. He had a good enough season.
After the attention around him died down, Colin Kaepernick actually went on to have a decent season, which proved three basic points.
First, he's good enough to play in the NFL, by far.
Second, if the team around him was better, the first point would be even clearer than it is now.
Third, the statistics prove points numbers one and two.
For example, these numbers come from football analyst Cian Fahey, a man who studies literally every quarterback's throw when evaluating one.
In other words, Kaepenick throws pretty accurately, which helped him avoid turnovers, even as his receivers made a lot of mistakes along the way.
3. The NFL marker rewards "good enough."
We don't even need to rely on the Osweiler comparison to make sense out of Colin Kaepernick's current status.
We can look no further back than a few days ago, when Chicago signed Mike Glennon to a $43.5 million contract that will pay him $16 million in for the 2017 season.
Mike Glennon threw just 11 passes during the 2016 season. In 2015, he didn't play at all (because his team had drafted Jameis Winston).
The year before he was no better than average. In other words, years ago, he was OK, which is good enough for an NFL team to give him a lot of money over a player like Kaepernick who is similarly OK (at worst)... except Kaepernick actually played this past season.
In general, quarterbacks are lucrative commodities in the NFL. So much so that even the ones who are just "good enough" are valued highly.
The fact that Kaepernick is, at the very worst, just as good as a player who got $16 million (based on performance from two years ago), makes it clear what's going on.
Teams are staying away from Colin Kaepernick because he didn't stand for the national anthem, in protest of police brutality. That is blatantly obvious, which means the idea that talent is having more of a say in why he's still unemployed is absurd.