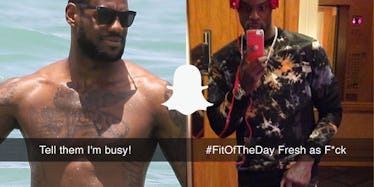 What If NBA Players Were Snapchatting Each Other In The Offseason?
While this NBA offseason is sure to be one of the wildest in recent memory, nothing really happened yet. But with some of the biggest stars in the game up for grabs, it's only a matter of time before sh*t gets real.
However, it looks like the only people not stressing about it are the players themselves.
It's the fans who obsess over the decisions the most and take things too personally. No matter what, these guys are going to get richer!
So amidst all of the rumors and speculation, you'd better believe that players are just cruising along and enjoying their vacations.
We already see the evidence through Twitter and Instagram, but what about Snapchat? We did a little digging up, and this is what we found:
LeBron just canceled his trip to Akron to go to Brazil for the World Cup.
Carmelo is staying in New York after all.
Chris Bosh is hitting the safari.
Dwyane Wade is spending time with his wifey Gabrielle Union.
Lance Stephenson is just getting as fly as possible.
Pau Gasol can get back to what matters the most.
JR Smith is hitting the clubs again.
Chandler Parsons is already enjoying his time as a Maverick.
Tim Duncan catching up on some reading at the library.
Carmelo is in heavy talks with his buddy LeBron
LeBron isn't that busy.
It's Kobe Bryant that has us most worried.
Okay Chris Bosh, it's getting creepy.