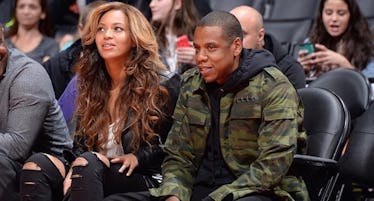 5 Ways To Enjoy March Madness For Those Who Know Nothing About College Basketball
Andrew Bernstein
The time is almost upon us, when all of our family, friends and coworkers suddenly become interested in a bunch of 18 to 22-year-old men dribbling a ball around and shooting it into a hoop.
When some crazy old guy who everyone is oddly obsessed with, despite his nonsensical yelling and insistence on dramatics, becomes a figure on televisions everywhere.
When 99 percent of America will inevitably experience agonizing defeat in a single weekend because a 15-seed beats a 2-seed that was supposed to go to the Final Four.
I'm talking about March Madness and all its glory!
The men's college basketball tournament (there's a women's tournament too, by the way) has become a month-long television extravaganza, from "Selection Sunday" to the championship, shoving college basketball down our throats.
For the die-hard fans and alumni with their school in the tournament, this is like a second Christmas.
For the people that would rather listen to Donald Trump try to sell them on his next foreign policy, March Madness is far from a celebration.
But it doesn't have to be that way!
You can absolutely enjoy the month of March (and a bit of April), despite your disdain for Larry in the next cubicle incessantly asking you how your bracket's doing, even though you didn't fill one out.
Use it as an excuse to drink all day and eat fried food.
Like most sporting events in the United States, college basketball games are typically consumed with the assistance of greasy fried food and alcohol.
March Madness amplifies this long-standing tradition with multiple games being played all day, one after the other.
The tournament starts on a Tuesday and keeps going every day for a week starting at noon.
So basically work in the morning, leave for a work lunch and never return to the office.
You can usually find decent bar specials on appetizers and drinks during March Madness, so do your due diligence and find the best specials so you don't break the bank buying rounds for your coworkers.
Get invested in a coach or player with an underdog story.
Aside from the sport itself, there are always side stories with the tournament that pull at your heart strings. Whether it's a coach that has been an amazing mentor to young men or a player that has overcome insurmountable odds to achieve his dream of playing college basketball, the tournament is filled with these stories.
And lucky for us, the sports media always obliges by putting together amazing mini-documentaries.
Keep your eye out for stories prior to and during the tournament. You will probably find yourself routing for a team or player.
Place a small wager on a long shot to win the tournament.
Lucky for us Americans who love rooting for the underdog, there's always a Cinderella story during March Madness.
Some team that shouldn't have even made the tournament ends up making it to the final week and everyone is still so shocked even though it happens every year. Inevitably, we all want to see that team win.
So why not place a small wager on that long shot?
Throw $20 on some team with 100-1 odds of winning the tournament. If they lose, what's twenty bucks? But if they win... you do the math.
Fill out a bracket based on your favorite mascots or name of the school.
This one is really more for those of us that find joy in upsetting outrageously obsessive sports fans.
I'm talking about the ones who spend days researching for their bracket and end up filling out dozens of them.
Pick a team because you like that the mascot has weird e or because you like that the college's name has five syllables.
Larry in the next cubicle will go insane, especially when your bracket somehow beats his. Larry may or may not have a gambling problem.
Use March Madness to connect with people you usually wouldn't.
More than anything, March Madness is a time when people with different interests and backgrounds can forget about adult responsibilities and just enjoy getting away for a few hours.
Even if you don't like basketball, or any sports for that matter, you can still use March Madness to hang out with people you typically don't see or haven't really gotten to know.
Just because you're "watching sports" doesn't mean you have to actually watch sports. Use it as a social tool to engage other people.
And when all else fails, grab a beer from the host's fridge and wait for April.