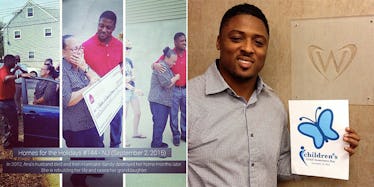 Former NFL Star Devotes His Time To Giving Single-Parent Families Homes (Photos)
Instagram
During his 12-year NFL career, running back Warrick Dunn split his time between the Tampa Bay Buccaneers and the Atlanta Falcons.
Now, the former football great is working to help provide homes for single-parent families all over the country.
His Pro Bowl selections, nearly 11,000 rushing yards and 1997 AP Offensive Rookie of the Year award are impressive, for sure, but his latest achievement is far more meaningful.
Warrick Dunn started his Homes for the Holidays program back in 1997, a mere four years after his mom, a single parent herself, was killed during an attempted armed robbery.
The goal of the initiative is to provide single-parent families with "down-payment assistance, food, home furnishings and other necessities to combat poverty and hunger and to improve the quality of life for those in need."
Less than 20 years later, Dunn's program has blossomed into an organization that just gave away its 144th home to a family in need.
Here's a look at how Warrick Dunn continues to make unbelievable play after unbelievable play.
Warrick Dunn recently gave away his 144th Home for the Holidays house to a single-parent family.
He started the program back in 1997, four years after his mom was killed in an attempted armed robbery.
Somehow, Dunn was able to juggle an NFL career with running a charity.
In 2002, while he was still playing in the NFL, Dunn created Warrick Dunn Charities to help his initiatives grow.
The recipient families for Homes for the Holidays are chosen through a partnership with Habitat for Humanity.
As of 2012, Dunn and his organization helped more than 115 single parents...
...and no fewer than 300 dependents across four major US cities.
Initially, HFTH was started by the Tampa Bay Bucs organization...
..but Dunn took it upon himself to lift the program to unthinkable heights.
Now, Warrick Dunn Charities provides homes in 13 US markets.
Family 139th for @WDCharities. Life changing moments never get old. Thankful. pic.twitter.com/HpzDkHXLAQ — Warrick Dunn (@WarrickDunn) September 18, 2014
For his charitable work, Dunn received a Giant Steps Award in leadership from Bill Clinton.
Deserving family 137th for @WDCharities. Blessed pic.twitter.com/USikuLZR8K — Warrick Dunn (@WarrickDunn) August 19, 2014
And in 2005, the three-time Pro-Bowler was honored with the Walter Payton Man of the Year Award in recognition of his community service.
Family 136th for @WDCharities. pic.twitter.com/N9Yr0b7nVr — Warrick Dunn (@WarrickDunn) August 19, 2014
But more important than the recognition are the smiles Warrick Dunn is putting on people's faces...
Family 134th for @WDCharities Homes For The Holidays program. Special Thank you @jaguars & @everbank in jville. pic.twitter.com/yZ1HWfYfk3 — Warrick Dunn (@WarrickDunn) May 20, 2014
...over and over again.
The 131st life changing moment for @WDCharities. This never gets old, I'm truly blessed & thankful pic.twitter.com/mO04eHPA2M — Warrick Dunn (@WarrickDunn) December 17, 2013
His mother, Betty Smothers, would be unbelievably proud.
Citations: wdcharities (Instagram), Former RB Warrick Dunn successfully provided his 139th home to a single mom (993espn.com), About Us (Warrick Dunn Charities), Warrick Dunn (Pro Football Reference)