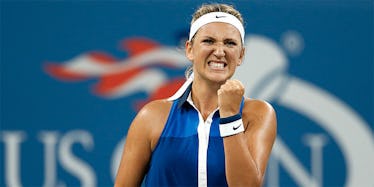 Learn From The Pros: How Tennis Star Vika Azarenka Trains For Success
Getty Images
Two years after a stretch that brought back-to-back Australian Open titles, Victoria Azarenka is at it again.
Ahead of what will be a huge 2016 season, the Belarusian star is undergoing two months of rigorous training to get ready for the new year.
Before she enters those eight weeks of intensity, she makes one last stop on vacation: New York City.
During her time in Manhattan, the woman, who among tennis fans is commonly referred to as simply "Vika," shares the details of her training regimen with Elite Daily along with tips for other players on how she stays fit and develops skills.
Here's how former no. 1 player Vika Azarenka trains for tennis season:
The Basics
With the past two seasons giving her injury-related problems, Azarenka says she will lengthen her training period and increase focus on her physical conditioning.
I will have, this time, an extended preseason. I want to get at least eight good weeks of training before I go to do my season, but usually it's about five to six weeks. And you start mainly with general physical training for two weeks, just really hard work getting your base endurance, etc., and then it goes more into tennis.
Developing fast-twitch muscles
"Fast-twitch muscles" are one of the terms thrown around more frequently when discussing tennis than in any other sports. Clearly, it's crucial for success on the court, so what does Azarenka do to develop hers?
I do power exercises like medicine ball throws and I recently, like a year ago, started doing olympic weightlifting because it's the most complex movement with the most explosiveness and power in it to help you extend faster and get to the first step faster.
Injury Prevention
For me it was a lot of educating myself to just understand, first of all, how the body works so I knew what to do. I'm constantly reading and learning injury prevention. Basically, injury prevention is discipline.
Azarenka, whose fitness issues over the past two years included a foot injury that kept her out for four months, says those problems prompted her into educating herself about the body which, in turn, made her appreciate the process of injury prevention.
It was also a lot about mindset, 'cause I hate doing it -- like, I absolutely hate stretching. But once I started to understand it a little bit more, it became fun for me.
Recovery
Like many athletes, Vika has discovered the benefits of cryotherapy, a process that essentially freezes the muscles and aids recovery.
Ice baths are another alternative, they are most common because cryotherapy is not everywhere. We have it at the tournaments, so after the matches it's very efficient, especially somewhere really hot.
Nutrition
Again, the key is education.
I wanted to be vegan because I love animals, but it was the worst thing I could've done for my body and my body wasn't recovering. So I had to learn it the hard way... but that was fine. Every body is unique. You can't really find out [about your body] without experimenting and learning.
Working on lateral movement
Lateral movement is not only about speed, it's about how fast you pick up your feet and the coordination. You can move fast but you can be either too far or too close to the ball, so it's really the sharpness of the lateral movement that's important.
Perfecting the serve
Azarenka says it's all about learning how your body serves and then learning how to develop power in the particular movements to produce the best serve for your body (since all players serve differently).
Once you understand how you move and understand which muscles work for that, it makes it easier.
But she also adds working on meeting the ball at the perfect point of contact has always been important to improving her serve.
I worked a lot on where I hit the ball and the timing of the contact. If you arrive on time to hit the ball at the right position, it doesn't matter what you did before.
The importance of cross-training
I love dancing. I just went to a dance class in New York. It's called Ratchet Zumba. I knew about Zumba, but I didn't know about Ratchet Zumba... Making your body think and learn different movements always helps you to with coordination and flexibility. I love playing basketball, I love swimming, I do paddle-boarding. I do a lot.
The key physical attribute a tennis player should have is...
I think the beauty of our sport is we have to get fit everywhere. You have to have endurance, you have to have [explosiveness], you have to have power, you have to have coordination. So, it's a little bit of everything. But in a long season, I think sustainability of your muscles and joints is important and endurance because you have long matches.
The most important quality for a young tennis player to have is...
I think it depends on what you want to achieve. If you want to be a champion, then I think something you have to really work at is work ethic [because] it is fundamental to bringing all the other aspects together.