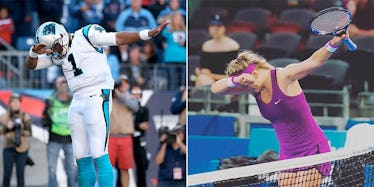 Deeper Than The Dab: Cam Newton And Vika Azarenka Couldn't Be More Alike
Getty Images/Instagram
On the surface, a black, male quarterback from Atlanta and a white, female tennis player from Belarus couldn't be more different.
But spend just a few minutes watching Cam Newton and Victoria Azarenka, and you'll realize these two 26-year-olds couldn't be more alike.
On Sunday, Cam Newton led the Carolina Panthers to a 31-24 victory over the reigning NFC Champion, the Seattle Seahawks.
With the win, the Panthers booked their ticket to the NFC Championship for the first time in a decade.
And though he only threw for 161 yards in the victory over Seattle, Newton tallied zero turnovers and just six incompletions.
Far from his most gaudy performance, it was still a Dab-worthy result nonetheless.
This morning, Belarusian tennis star Victoria "Vika" Azarenka completed a 6-0, 6-0 first-round Australian Open victory over Belgian Alison Van Uytvanck.
Vika celebrated her win with a very Cam Newton-esque Dab, and Twitter subsequently lost its sh*t.
Immediately, the stars aligned, and it became abundantly clear: Cam Newton and Vika Azarenka are basically the same athlete.
Think about it.
Vika and Cam are electric Millennials who ignited their respective sports.
Historically, tennis was linked with elitism and uniformity; players still have to wear all white at Wimbledon. Hailing from middle-class roots in the former Soviet Union, Azarenka is arguably the most charismatic and flamboyant player on tour.
And the Belarusian has been showing off her on-court dance moves long before Newton brought the Dab to its current level of prominence.
Most importantly, though, Azarenka is a winner. She lifted back-to-back Australian Open titles in 2012 and 2013 but suffered through an injury-plagued 2014 and 2015.
Now, 2016 is looking like it could be her most promising professional year to date. She's currently the No. 16 women's player in the world, but after winning the Brisbane International and dominating in her first-round match in Melbourne, she's being tipped in many corners to win the Australian Open for the third time in her career.
On this side of the world, Cam Newton is changing the perception that a champion quarterback has to look like Tom Brady, Peyton Manning or Russell Wilson, and he's about so much more than just a viral dance move.
Newton, much like Azarenka, beats to his own drum, and he really doesn't care what opponents or fans of other teams have to say about it.
As Cam puts it, if you don't like his dancing, don't let him score.
With 16 wins, including the playoffs, a career-high 35 touchdowns in the regular season and a career-low 10 interceptions, 2015-2016 is by far the greatest season of Cam Newton's NFL career.
And while doing the Dab and his patented Superman celebration attracts the cameras, it's what he does with the football week in and week out that has him in a position to lead the Carolina Panthers to their first Super Bowl title in team history.
Still, though, the Superman celebration is pretty fly.
But make no mistake, while Cam Newton and Victoria Azarenka are the most entertaining players in their respective sports, they aren't yet top dogs.
Despite the fact he's 38, you still wouldn't bet against Tom Brady lifting his fifth Super Bowl trophy in a few weeks. And although she fell short of the calendar slam at last year's US Open, Serena Williams is still miles ahead of the second-best player on the women's tour.
A year before Vika lifted her first career Grand Slam title in 2012, Cam lifted the 2011 BCS National Championship with Auburn.
Azarenka followed up that Australian Open win with a successful defense of her title. And her 2013 showed even greater promise when she made it to the semis of the French Open and the finals of the US Open.
After a stellar college career, including that BCS title and a Heisman Trophy, Cam Newton was taken first in the 2011 NFL draft by the Panthers.
Cam struggled in his first two seasons in the league. Now, he marked Carolina's third straight playoff appearance with the very real possibility of a Super Bowl title.
As a result of nagging injuries, Azarenka endured an abysmal and inconsistent 2014 and 2015.
She now appears, both mentally and physically, ready to fight for every Grand Slam in 2016.
Newton and Azarenka are unique athletes in that their skills are equaled by their apparent love for life.
Despite the immense pressures and rich rewards attached to the lowest losses and the greatest wins, Vika and Cam remind us all why any professional athlete picks up a ball or a racket in the first place: to have fun.
When Cam scores a touchdown, he finds a young fan and gives them the ball -- a tradition that trickled down to the rest of his teammates. He's also not above taking advice from young admirers.
Vika loves her fans, taking the time for pictures and autographs after almost every win, giving thanks to them on social media and dancing with anyone who's willing.
While they both had their ups and downs at different points in their careers, the beginning of 2016 could prove very telling for Vika and Cam.
Come February 7, they could both be crowned champions; they could also be left wondering where it all went wrong.
Win or lose, it's almost a foregone conclusion Newton and Azarenka will come back just as hungry, and just as happy, the next time they throw a pass, smash a winner and hit all the right dance moves.