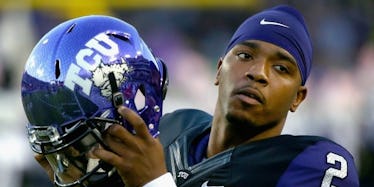 The NFL's New Rule Means This Top College QB May Have To Give Up His Dream
Getty Images
I can't think of a single reason not to applaud the announcement the NFL will no longer allow players with domestic violence, sexual assault or weapons-related convictions to attend its annual Scouting Combine in Indianapolis, Indiana.
All 32 NFL teams learned of this change in policy in January via a memo from Troy Vincent, the league's executive vice president of football operations.
So, if a combine-ready player has a background check turn up with a felony or misdemeanor conviction, that player will not be allowed to participate in any NFL event. If a player refuses to allow a background check, that player will also be barred from participation.
Additionally, the same players blocked from the combine will not receive invitations to the NFL Draft.
Hooray! The NFL, which took plenty of heat over its handling of domestic violence perpetrators like Ray Rice and Greg Hardy (not to mention, its ongoing battles with concussions and chronic traumatic encephalopathy, or CTE), just took a pretty legitimate step in trying to clean up its image and brighten its future.
I can't think of a single reason to take this action as anything other than a victory for football and the moral good.
I can't think of a single reason, but I know at least one person who can.
The 2016 NFL Scouting Combine begins February 23, and there's a very real possibility former Texas Christian University quarterback Trevone Boykin won't be there.
Boykin finished in the top 10 in Heisman Trophy voting the last two seasons and was crowned Big 12 Conference Offensive Player of the Year in 2014, but in late December, the 22-year-old was charged with the assault of a public servant after getting into a fight with staff at a San Antonio, Texas bar and allegedly charging at responding police officers.
The charge, a third-degree felony, is punishable by up to 10 years in prison and a max fine of $10,000.
The incident occurred just two days before TCU played the University of Oregon in the Alamo Bowl.
As a result of the arrest, Boykin was suspended from the Alamo Bowl by TCU's coaching staff. Now, based on the NFL's new policy, he could miss out on the Scouting Combine and, thus, a potential shot at playing in the NFL.
Granted, there are alternative methods for those like Boykin to try to gain entrance to the NFL. The new Scouting Combine policy puts no restrictions on players attending private workouts, regional combines and pro days.
Basically, if an NFL team wants Boykin, they can still have him work out for them.
But, not going the traditional route for a player who already deals with questions regarding his size, accuracy and throwing motion could be a recipe for disaster.
Boykin was undoubtedly counting on the NFL Scouting Combine as his only major opportunity to impress NFL teams and prove he can be an NFL quarterback. If he's not allowed to participate, there's a very real chance even if he does get signed as an undrafted free agent -- meaning less money and contractual protection -- it won't be at the quarterback position.
I'm not attempting to conjure up feelings of sentiment for a young man who broke 11 TCU records and threw for 10,727 yards and 86 touchdowns en route to becoming one of the best passers in the nation these last two years.
Trevone Boykin made a mistake and broke the law. He deserves to be punished accordingly.
I genuinely believe the NFL's goal isn't to defer the dreams of a young man but to send a staunch warning of the consequences awaiting those who break the law.
If Trevone Boykin is the first player to be affected by the NFL's new initiative, he surely won't be the last.
How many other dreams will be deferred before we see a nation-wide change in behavior? How many will be deferred unjustly?
I can't think of a single reason why the NFL's new Scouting Combine policy isn't a step in the right direction, but I haven't dedicated my entire life to football, and I didn't make a mistake with the whole world watching.
Boykin is scheduled to appear in court February 17, six days before the start of the NFL Scouting Combine.
Citations: NFL Bans Players Convicted of Sexual Assault, Domestic Violence from Combine (Bleacher Report), Boykin charged with assault of public servant (Star-Telegram), TCU's Trevone Boykin damages NFL Draft chances with arrest (CBS Sports)