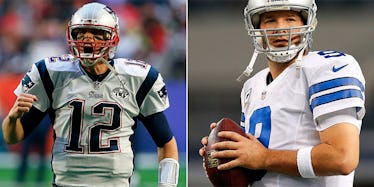 New Age Outlaws: The Top 10 NFL Quarterbacks Of Football's Modern Era
Getty Images
It's perhaps the most compelling argument in all of sports: Who is the best quarterback of all time?
That question will not be answered here.
Instead, this list will cater to the present.
The league is different now; the passing numbers have ballooned over the past decade.
Every season, another seemingly unbreakable passing record goes down.
These 10 men are the game-changers; they're the 10 best quarterbacks of the modern era.
Sorry Dan Marino, Steve Young, and John Elway, we love you, but you no longer fall into the "modern" category.
The only criteria here -- aside from production on the field -- is each quarterback came into the league post-1995.
10. Tony Romo (2004)
Cowboys fans won't like this score; they'll likely think this is too low.
But the bevy of quarterback talent that has come into the league the last 20 years is tremendous.
The 35 year-old Romo has been great since taking the reins for the Cowboys in 2006, as evidenced by his 33,821 career passing yards, and superb passer rating (97.6).
He would certainly benefit from a Super Bowl win before his career runs out, but regardless, there's no denying his talent.
9. Russell Wilson (2012)
Like Romo, Wilson has an outstanding career passer rating (98.6).
The 5' 11" Wilson is the smallest guy on this list, but his ability to extend plays, find the right guy and hurt you with his legs more than makes up for his stature.
Unlike Romo, Wilson already has one one Super Bowl win, and is a Marshawn Lynch goal-line snub away from having two.
8. Andrew Luck (2012)
Another from the 2012 draft class, Luck's 4,374 yards during his first season is the most all time for a rookie, and he has not veered since his strong debut.
Last season Luck led the league with 40 passing touchdowns.
His career numbers aren't yet elite, but they almost certainly will be 10 years from now.
7. Kurt Warner (1998)
A high quarterback rating (93.7), a wildly successful run with "The Greatest Show on Turf" and an improbable resurrection late in his career are the highlights of Warner's NFL tenure.
Although once plagued by injury with the Rams, Warner had a strong comeback with the Cardinals during his twilight.
6. Eli Manning (2004)
Sometimes maligned, but always good, Eli is a shoo-in to make this list of modern elites.
The Super Bowl wins are great, and it helps, but this is a list of the best quarterbacks, not the most team successes.
His numbers are there: Eli is 12th on the all-time passing yards list, and could catapult himself into the top 10 by season's end.
5. Ben Roethlisberger (2004)
Since his emergence in 2004, Big Ben has consistently been a top-tier quarterback in the league, and he's seemingly getting better as his career progresses.
Last season he led the league in passing yards with 4,952. And man, is he hard to bring down.
4. Drew Brees (2001)
Remember when Drew Brees played for the Chargers?
That seems like it never happened, and it was the Saints that nurtured the former Purdue Boilermaker into a mega-star.
After five okay seasons in San Diego, Brees was traded to New Orleans in 2006, and promptly led the league in passing that season.
He's led the league in passing five times since joining the Saints, and has thrown for more than 5,000 yards four times.
3. Aaron Rodgers (2005)
He's still relatively young, but so good.
Rodgers leaves the door open for himself to be the greatest ever by the time he's done.
He blends savvy, athleticism, arm-strength and accuracy better than any quarterback in the history of the game.
At times, he can be scary good.
Rogers is best Packer quarterback ever, and holds the best passer rating of all-time (106.5).
2. Peyton Manning (1998)
The numbers speak for themselves: 71,215 yards, 537 touchdowns and a career passer rating of 96.9.
But for the last three years it seems Peyton flip-flops between best and second best, not only on this list, but on the all-time best list.
Right now he's runner-up.
And it looks as though he'll stay here.
Astonishingly cerebral, and able to make any throw in his prime, Peyton has always been a marvel to watch.
1. Tom Brady (2000)
Brady is not only the greatest quarterback of the modern era, but the greatest quarterback of all-time.
His arm has always been electric, and still is at 38.
His regular season numbers likely won't be as prolific as Peyton's, but that's okay.
His four Super Bowls (and counting) are direct byproducts of his elite and often clutch play, especially in the postseason.
Brady has more touchdowns and passing yards then any quarterback in playoff history.
Yes, even more than Joe Montana.