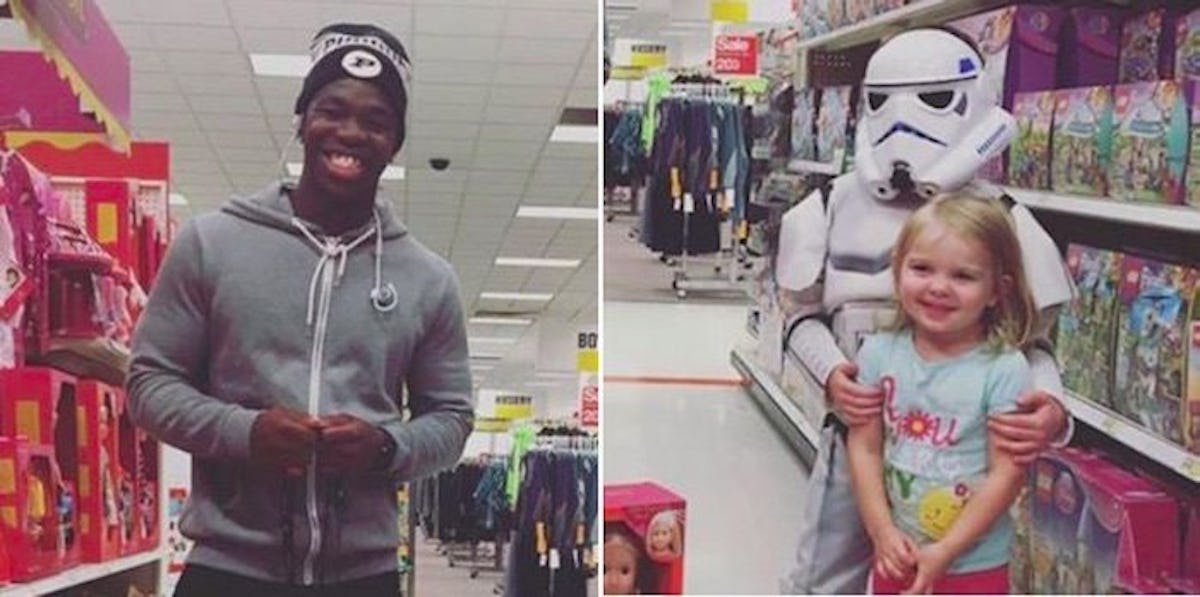 College Football Player Gave This Toddler The Perfect Birthday Surprise (Photo)
Buckle up, folks: I'm here with proof Target is the place where dreams come true.
Megan Shufflebarger was apparently walking through the store with her children when Kinley, her youngest, found herself distracted by a doll.
The 2-year-old's birthday was coming up, but Shufflebarger was hoping to accomplish errands rather than buy toys.
As Kinley begged her mother for the doll, Purdue University football player Tario Fuller II approached and asked the little girl which doll was her favorite.
According to a post on Facebook in which Shufflebarger detailed the interaction, Kinley pointed to one doll and told Fuller,
I really lub dis one.
Then, the 19-year-old college freshman grabbed the doll and left the aisle.
Shufflebarger wrote,
I thought it was odd at first, but was quickly distracted with more oohing and ahhing. Kinley asked where the dolly was she picked and I told her it would be okay, there are more.
According to the Facebook post, Fuller soon returned, to the family's surprise, with the doll packaged and paid for, telling Kinley,
Happy birthday... Enjoy your dolly.
In an interview with ABC News, Shufflebarger shared,
I was speechless initially, and had to ask him after he left the aisle if he would come back for a photo… I didn't realize until we got to the car that I didn't even know his name.
When the mother arrived home, she posted the photo to Facebook hoping to find the mystery gift giver, and people eventually identified the man as Fuller.
My heart is about to explode. We were in target tonight and this younger couple was walking thru the toy aisles... Posted by Megan Shufflebarger on Thursday, October 22, 2015
Purdue Athletics shared Shufflebarger's post on its Facebook page, praising Fuller for his kindness. The caption read,
We couldn't be more proud of the type of young men and women in our athletics department.
The NCAA wrote an article in Fuller's honor, calling his actions "refreshing."
In a response on Facebook last week, the running back said the flood of acclaim was an "honor."
Citations: Student Stuns Mom And Toddler With Surprise Birthday Gift In Target (Huffington Post), Toddler Gets Surprise Birthday Gift From Stranger at Target (ABC News), Purdue football player buys toys for young girl's birthday (NCAA)