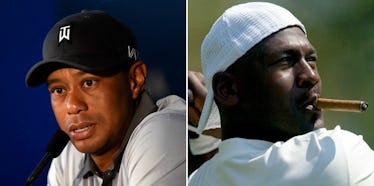 Tiger Woods Asked Michael Jordan And Derek Jeter How To Pick Up Women
USA TODAY Sports-Michael Madrid/REUTERS-Chris Keane
On Thursday, ESPN published a long-form piece titled "The Secret History of Tiger Woods," which is filled with tales of Tiger's life away from the golf course.
The most attention-grabbing anecdote, though, has to be the time the great Tiger Woods asked Michael Jordan and Derek Jeter how to pick up women at a bar.
In the article, Wright Thompson writes,
One night he went to a club in New York with Derek Jeter and Michael Jordan. Jeter and Jordan circulated, talking with ease to one beautiful woman after another. (Both declined to comment about the episode.) At one point, Tiger walked up to them and asked the question that lives in the heart of every junior high boy and nearly every grown man too. 'What do you do to talk to girls?' Jeter and Jordan looked at each other, then back at Tiger, sort of stunned. Go tell 'em you're Tiger Woods, they said.
When you think about Tiger Woods in his prime, you wouldn't think he'd have trouble getting anything, least of all women. But, you have to give Tiger credit, though, because if you're going to ask for advice on how to pull women, I can't think of two better dudes to ask than Michael Jordan and Derek Jeter.
I think it's safe to assume Tiger took their advice to heart and never looked back.
Citations: The Secret History of Tiger Woods (ESPN)