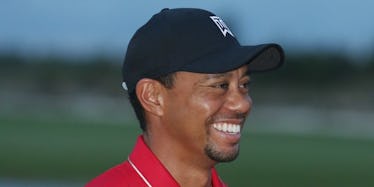 Amazing 11-Year-Old Sinks First Hole-In-One At Tiger Woods' New Golf Course
Getty Images
It's been a while since Tiger Woods had his name in the news for something great that happened on the golf course, but the former world number one is finally back in the spotlight... kinda.
Yesterday, Woods invited a group of young golfers to help him officially open his new golf course, The Playgrounds at Bluejack National. An 11-year-old by the name of Taylor Crozier had the honor of taking the first shot off the tee, and wouldn't you know it, young money hit a hole-in-one.
The crowd went wild, as you would imagine, but no one appeared more excited and amazed than Tiger Woods himself. The 40-year-old immediately embraced Crozier after his amazing shot, but you know at some point Tiger thought to himself,
Sh*t, how am I supposed to follow that up?
Tiger later tweeted his amazement of Crozier's epic hole-in-one.
First hole at The Playgrounds @BluejackNation and this happened https://t.co/ChD312oPEJ — Tiger Woods (@TigerWoods) March 3, 2016
The 11-year-old is a Southern Texas PGA Junior competitor, but he took nothing away from hitting a hole-in-one to christen Tiger Woods' new golf course.
Citations: Watch an 11-Year-Old Score a Hole-in-One at Tiger Woods' New Golf Course (TIME)