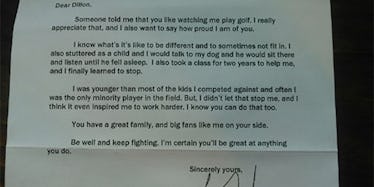 A Letter From Tiger Woods Helped Change A Young Fan's Thoughts On Suicide
Golf Digest
This, from Tiger Woods, is beautiful.
The world's most recognizable golfer sent this heartfelt letter to a young fan who struggles with stuttering, was tortured by bullying and had contemplated suicide.
The note above helped change that.
The story behind the letter goes as follows:
Last week, Golf Digest writer Ron Sirak wrote a story on former professional golfer Sophie Gustafson, who also struggles with stuttering.
Sophie is a mentor to Woods' young fan, Dillon, and told Sirak the constant teasing from other kids pushed Dillon into attempting suicide.
After seeing the article, though, Tiger's people quickly got in touch with Sirak, in order to get Dillon's contact information. By Sunday, Woods had gotten in touch with the young fan via that touching letter, which prompted Sophie to send Sirak this text message:
Tiger sent Dillon a letter and told him he also stuttered when he was younger. He's ecstatic. We did good Ron.
But the response from Dillon, who wrote a thank-you email to Sirak, was so much more powerful.
Thank you for having your friend share my story. Please thank him for me. I really appreciate all the support and help you are giving me. My mom and I saw all the support on twitter. I know that I have a lot of support thru this challenging time. I just want to fit in. I just want to find true friends who will accept me and not make fun of me when I talk. It gets so frustrating when you have things to say and people just don't give you a chance to get it out. On Saturday, I got a letter from Tiger! He told me that he used to stutter too. We are going to frame the letter. We have never seen a golf tournament in person, only on TV. I told my mom that when my leg gets better (he fractured his leg in his suicide attempt) I think that would be a fun thing to do. I hope that maybe one other person out there that is also having struggles, will hear my story and realize suicide is not the answer and maybe it can help them. I just acted on impulse and now wish that I hadn't. I was just tired of feeling small and like I didn't matter. I know that I do matter with the help of my family and friends like you to support me. So thank you and please thank Ron. You are a really great person.
Thank you, Tiger Woods.
Citations: Former stutterer Tiger Woods writes letter to young boy being bullied (Golf Digest)