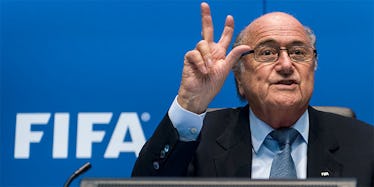 The Most Powerful Man In Sports Is Making Money Off Slave Labor
Getty Images
This week's shocking news out of the wild world of pre-World Cup Qatar was really no shocker at all.
The BBC reported four of its employees, who'd recently been covering the state of worker's conditions in the gulf nation's capital of Doha, were not only followed by the Qatari government from the moment they landed in the city, but arrested on their way to film a group of construction workers.
It makes perfect sense, too, and not just because a few German journalists were similarly arrested a couple weeks prior.
It's because Qatar has had so much to hide since it was bizarrely handed the 2022 World Cup, a tournament for which stadiums are being built on the backs of workers who have been mistreated almost beyond belief.
Nearly every report of significance on the labor conditions for World Cup construction has been truly horrifying.
There are stories of men from poor countries like Nepal and Bangladesh, who sign up for these jobs with recruitment agencies in their homelands that promise good salaries, only to find they will truly be paid half of that amount.
In some cases, their contracts are ripped up in their faces once they arrive in Qatar, while they are still obligated to pay the high cost they owe the recruitment agents that sent them there.
At times, even their insultingly low pay isn't given to them. Many employers for Qatar's World Cup sites have been reported to have gone months without paying many workers, without consequences.
And in other cases, their inhumane living conditions seem even worse than their pay, if you could even imagine.
Many of these stories, which have been documented in both print and video by the reputable likes of ESPN and The Guardian, are hard to quantify.
Thus, they are admittedly less hard-hitting than the cold hard facts that could contextualize the horror that is faced by many of the workers, who already travel to Qatar from less-than-stellar situations.
But the numbers are there, too.
By The Guardian's count, over 1,000 deaths among workers from Nepal, India and Bangladesh have been recorded between 2012 and 2014 alone. 
ESPN's own reporting last year found by "conservative estimates," Qatar's World Cup construction jobs were expected to result in over 4,000 migrant worker deaths.
Here's another fact: Most of the problem, and the seemingly consequence-less manner in which employers can inhumanely treat employees in Qatar, stems from the Kafala system.
Kafala is the law of the land in Qatar, which allows companies to act as "sponsors" to these workers' immigration into Qatar.
This sponsorship ties each worker to the employer for the life of his or her contract, which means an unhappy employee can only be granted permission to leave the country by the company, which has the power to withhold passports.
Simply put, Kafala allows construction companies to do whatever they want to employees, from having them work in slavery-like conditions to treating them like actual slaves.
And make no mistake, slaves are exactly what workers become once they go months without getting paid, all while living in terrible conditions and being lawfully prohibited from escaping the situation.
These are the facts. And it's impossible to separate these facts from soccer's world governing body, FIFA, and by extension, its 78-year-old leader, Sepp Blatter.
The fact that Qatar was named host of the summer tournament (via a bidding process that stinks of corruption) was already bad enough.
But the idea that bribery could facilitate the awarding of hosting rights for a tournament -- an honor that is all about vanity anyway -- is not much of a surprise.
This, however, is infinitely worse.
The man at the top of an organization that is endowed with so much power because it owns what is literally the world's most popular event, and brings in billions of dollars of TV and marketing revenue as a result, will now benefit from the slave labor that will build the 2022 World Cup.
And he's benefitting in ways that are more sinister than you'd think at first glance, at least according to one accusation that surfaced during ESPN's latest documentary on the FIFA president.
According to that accusation, Blatter's only credible opposition to the presidency during the 2011 election, Mohamed bin Hammam, stood down on the condition that Qatar would be assured the 2022 World Cup.
All of this, whether that accusation is true or not, is a new low for Blatter, which is an incredible feat when you consider just how terrible of a human being he's made himself out to look.
But forget his long list of offensive soundbites and transgressions for just one second.
Forget the fact that he has invited accusations of sexism by suggesting female soccer players wear tighter shorts while playing, and by setting up a 2015 Women's World Cup that allows conditions that would never be imposed on men.
Forget the fact that he has been accused of rigging the election that earned him his initial term as FIFA president.
Forget the fact that his organization has awarded the World Cup to a nation that is not ready to welcome the world.
Forget the fact that this same summer tournament, which is being built by workers who have to perform in temperatures that can reach 120 degrees, can't even be held in the summer anymore because the temperature can reach 120 degrees.
And definitely forget the fact that Qatar is just beginning to make progress in improving workers conditions, which does not and will not justify the damage that has already been done.
Just forget it all, including the fact that he is an all-around dislikable figure and take in the one reason that, even if it stood on its own, would explain why.
By allowing the World Cup to be held in Qatar, in a way that quite possibly had a hand in consolidating his own power, Sepp Blatter, by far the most powerful man in sports, is directly and unapologetically profiting from slave labor.