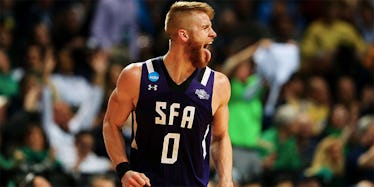 To SFA From A Fellow Lumberjack: Thank You For Everything
Getty Images
In sports, rankings are seen as a very important factor for determining how well each team is expected to do. During March Madness, however, you can throw these numbers out the window.
NCAA Tournament seeds are far from an accurate predictor of how well a team will perform against their opponent and upsets are what make this such a wonderful time of year.
The tournament gives these teams a chance to prove how powerful and impressive their approach to the game truly is. It gives teams a chance to prove their worth, and not allow their seeds to define their success. It also exposes the void of accuracy in rankings. A 14th seed beating a third seed by 14 points is an excellent example of what I am talking about.
Ladies and gentleman, if you have been watching the games, you are probably well aware of who the Stephen F. Austin Lumberjacks are. If you haven't been keeping track of the madness, allow me introduce you to this amazing team.
The Lumberjacks (Jacks, for short) of Stephen F. Austin State University (SFA, not SF Austin) hail from Nacogdoches, TX.
Before Friday, when the no. 14 seeded Jacks impressively defeated the no. 3 seeded Mountaineers of West Virginia in the first round, many people had never heard of SFA, the Lumberjacks, or Nacogdoches. But, in less than 48 hours, between Friday's tip-off and Sunday's, the majority of the nation had gone from thinking SFA was an airport to rooting for the Jacks to move past the Fighting Irish of Notre Dame to earn a spot in the Sweet Sixteen.
Unfortunately, SFA was defeated by Notre Dame in the final seconds of the second round game with a final score of 76-75. This isn't what's important, however. What's important is how the Jacks presented themselves to the nation during both of these games.
The triumph against WVU and the close loss to Notre Dame didn't just happen by coincidence. This wasn't just some Cinderella story, this wasn't a fluke. And even though the majority of us would have loved to see the Jacks go all the way, they have already accomplished what they needed to.
SFA star Thomas Walkup, who has been noted by the media as looking like a real life lumberjack (thanks to his impressive beard and athletic build) and fellow senior teammate Trey Pinkney, Coach Brad Underwood and the rest of the Lumberjack men's basketball team gave the nation exactly what it needed.
They showed us the meaning of teamwork, the value of determination and just how much they deserved to "go dancing." In fact, from watching the way they played, I'm sure the majority of us could agree a 14 seed was rather bogus.
Their performance in the tournament wasn't just enhanced for this time of year; they have played ball with the exact fluidity, determination, and heart for the entire season. If you're one of those individuals who put all their faith in numbers, allow me to break it down for you.
Led by Coach Brad Underwood, the Jacks finished with a Southland Conference record of 18-0 with the obvious champion title. In fact, since 2014, the Jacks have gone 59-1 in the Southland.
Additionally, before Sunday, the Jacks were on a 21-game winning streak, the longest in the country, and their loss against Notre Dame was their first in 2016. After Sunday's loss, the Jacks ended their 2015-2016 season with a 28-6 record.
Even if you aren't a fan of stats, those numbers are still impressive, and SFA's showing on the court for both tournament games is enough to show they mean business. The Jacks didn't crack under pressure. The way this team played on the big stage against teams as well known as WVU and Notre Dame speaks for itself. A Cinderella team that played like a nationally-recognized squad is what's gaining SFA such praise from the media.
Aside from the stunning athletic skills from the Lumberjack men's basketball team, SFA is truly a wonderful university. Seated on a beautifully landscaped, scenic campus in the rural town of Nacogdoches (the oldest town in Texas), SFA boasts 120 areas of study and a student body unlike any other.
This university is unique and special to anyone who get the chance to call themselves a Lumberjack. As a student, whether in conversation with professional recruiters, friends or distant family members, having to explain what and where SFA is and why you chose to go to a school they have never heard of can be frustrating.
In less than 48 hours, however, the unfamiliarity of SFA and Nacogdoches has certainly changed. Lumberjacks are some of the strongest, friendliest, smartest, most determined and most respectful individuals I have ever met. The SFA men's basketball team showed the entire nation just that.
So, from a fellow Lumberjack, I would like to extend a huge thank you to Thomas Walkup, Coach Underwood and the rest of the Men's Basketball team for showing the nation just what it means to be a Lumberjack. Also, congratulations on an amazing 2015-2016 season. Axe 'Em Jacks for life!