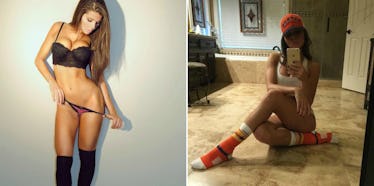 The Sexy Houston Astros Fan At Last Night's Game Is Also A Top Model
Instagram
Tuesday night, the Houston Astros took on the Toronto Blue Jays at Houston's Minute Maid Park. They lost the game 2-1, but during the ninth inning, with the Astros down to their final strike, something miraculous happened.
The television cameras picked up a gorgeous mystery woman standing behind home plate in what appeared to be a custom-made Houston Astros shirt.
Bless you, television cameras. Bless you.
As it turns out, this mystery woman is Terann Hilow, a model, host, designer and business owner who happens to be a massive sports fan.
In particular, Hilow is a fan of most Houston sports teams, and her Instagram account is filled with pictures of her in homemade fan gear.
Honestly, Terann Hilow is sexy AF, and she's exactly the kind of superfan the sport of baseball needs right now. If you don't believe me, take a closer look at the 27-year-old sports fan from Houston who's single-handedly making sports great again.
Terann Hilow was spotted at last night's Astros game in what appeared to be a custom shirt.
As it turns out, Hilow is a fan of all things sports, particularly when it comes to Houston-area teams.
She's been a Houston Rockets fan her entire life, ever since Matt Maloney autographed her shoe when she was a kid.
Initially, Hilow made a Houston Texans bikini and posted a picture of herself wearing it on Instagram.
That set off a firestorm, which resulted in Hilow creating custom bikinis for all 32 NFL teams.
To no one's surprise, this gorgeous sports fan is a model...
...but she's also worked in the legal field.
But the only thing Terann Hilow is guilty of is being an incredibly sexy sports fan who's making America great again.
As you can see, not only is this southern sports fan attractive, she's also extremely creative.
Her custom sports shirts and outfits are awesome...
...and she looks fantastic in everything else she's modeling.
Terann Hilow, you're the real MVP. In more ways than one.
Citations: That Was Astros Superfan Terann Hilow Behind Home Plate At Last Night's Game (Busted Coverage), TERANN HILOW (Instagram), Rockets fan Terann Hilow talks modeling and basketball (National Sun Times)