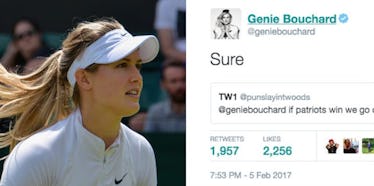 Tennis Pro Promised Date To Fan If Pats Somehow Won And Instantly Regretted It
Flickr / Twitter
Tennis player Genie Bouchard was feeling confident about the Super Bowl.
Like the rest of America, by half time on Sunday night, Bouchard was sure the Atlanta Falcons were going to beat the New England Patriots. I mean, really, at that point it was a blowout.
The Canadian athlete tweeted about it:
Bouchard was cocky, saying she "knew" Atlanta would win.
Seeing this smugness, one Bouchard fan had a bet proposal.
He tweeted at the tennis player making an offer: If the Patriots win, Genie would have to take him on a date.
But then the game started getting interesting in the second half.
Tom Brady hopped into beast mode and began the Pats' historic comeback.
Bouchard started getting "kinda" nervous, she tweeted.
And by the time the Pats made a historic overtime win, Bouchard was shocked and humbled.
She tweeted meekly at the betting fan, asking where he lived.
Bouchard was far from alone in her halftime assumption that Atlanta would win.
She had the same reaction many of the rest of us did.
Yeah, we were all staring at our TV screens as the game ended, wondering what the hell just happened and how.
We, like Bouchard, learned our lesson about betting against Tom Brady.
It was definitely an exciting fourth quarter on Sunday night, leading to both heartbreak and joy across the country.
Bets people thought safe were suddenly lost, but at least it was interesting.
By Monday afternoon, the shock still hadn't worn off from the Patriots' Super Bowl win.
Bouchard took to Twitter once again to voice her disbelief.
She tweeted a picture of herself (in a sick Space Jam sweatshirt) questioning the reality of the game.
At least she's not alone in her confusion -- and she won't be alone going through with a terrible bet.