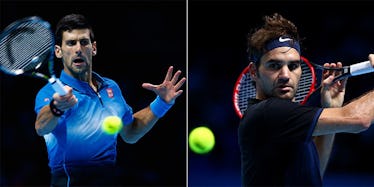 Elite Tennis Preview: All Eyes On Djokovic And Federer In The Semifinals
Getty Images
Last night was a wash, as we split with our two plays.
Murray ended up beating Ferrer in four, although he probably should've gotten it done in straights -- as it looked like was battling himself (and his box) for most of that second set -- while Milos won his match against La Monf, and covered the game spread too.
Tonight, we have our first semifinal matchup -- and it's a big one -- marking the 45th meeting between old foes Novak Djokovic and Roger Federer. Being that it's a match of such great magnitude and significance, I decided to bring in some help to try deliberating on its outcome.
Enter: Adam Chemerinsky -- or @adctennis, on Twitter -- former sports blogger-turned betting personality and a friend of mine who shares an equal love for the fine sport of tennis.
Being a huge Roger fan, myself -- and knowing that ADC is one of the biggest Novak-supporters out there -- I figured today would be an opportune time to feature the first guest on our betting preview. So I had Adam provided his take on the match, below, even though we probably won't see eye to eye on the result.
Still, regardless of how it turns out, we're in for a sensational night of ball. The match kicks off at around 3:30 am EST, so if you plan on watching it all go down, you might want to tuck yourself into bed sometime shortly after work.
I'm sure we'll see some world class rallies – like this one from the 2009 US Open.
ADC's take: Djokovic -290 over Federer
In the past five months Novak Djokovic has only lost to one player (Roger Federer).
Coming off a record breaking year, most players admittedly would spend the offseason trying to figure out the world number one; Federer, however, said he is better suited working on his own game -- and early results show he is returning much better and aggressively than in previous years.
While Federer is obviously in good form, he still has not shown he can beat Novak in the high pressure situations. I think what we will see is Novak having just enough variety on his serve (Berdych's serve was way too predictable) -- and this variety will make Roger chip his returns and allow Novak to be able to dictate play and control the baseline.
In a long five-setter I think Novak is willing to go to plan B, C or D if he needs to, while Federer can be a little too stubborn, which may cost him against Novak in longer matches, because Novak can beat an opponent in so many different ways.
Prediction: Djokovic in four (6-4, 4-6, 6-4, 6-2)
  Scotti's take: Federer +4.5 games against Djokovic
Hey, guys, it's gonna be a tight one.
Frankly, I see this match ending 3-2 in favor of the Serb, with each of those sets likely being bloodbaths. But, then again, I'm not going to rule Roger out. Although betting Djokovic to win outright would probably be the most realistic bet to make, at -290 I'm not enticed by the line's value.
It's uncanny: Every Grand Slam, Roger alway seems to convince me -- at some point or another -- that he can take Novak in a best of five. Last year at Wimbledon, I thought Roger played the better tennis heading into the final, only to watch him lose in four -- and at the US Open, as well -- much of the same story. However, tonight, I'm optimistic that Federer can get the result he's looking for against his old rival Novak Djokovic.
What's really impressed me about Fed's game this tournament has been his aggressive play and willingness to come to the net and shorten up points. In the quarters against Berdych, Federer completely controlled the tempo of the match, playing upwards of 30 points at the net. Roger knows if he's to stand any chance in this match, against Djokovic, he's going to have to be the aggressor during rallies -- and absolutely cannot allow the world No. 1 to get comfortable and hit confidently from the baseline.
Being the 45th match between these two tennis legends -- with nothing to show between the two of them, to this point -- something will have to give tonight. I'm not sure if Roger will come away from tonight's match with the edge in their rivalry, but I do think he'll bring a strong enough game plan for him to cover the game spread.
Altho we haven't seen any of Roger's iconic SABR technique, from last US Open, thus far in Melbourne – Federer told Jim Courier in his post match interview, after beating Berdych, that he might bring out in his next match.
Great comedy show stuff from Jim Courier and Roger Federer #AusOpen pic.twitter.com/SamQmDNB8X — Andrew Jerell Jones (@sluggahjells) January 26, 2016
Even without it, I think Federer has been hitting well enough right now to beat Novak. It even seems as though he's been able to inject some more pace into his backhand, which has been sizzling all tournament like the Aussie sun. If the roof is closed tonight, it will lead to quicker conditions on Rod Laver, and that certainly bodes well for the Swiss.
Back Roger getting the 4.5 and grab your popcorn.
Prediction: Djokovic in five (5-7, 6-4, 6-7, 6-3, 6-4)