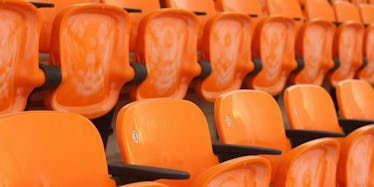 A College Football Player Helped An Alleged Rape Victim, And Then Got Bullied
Getty Images
Drae Bowles no longer plays for the Tennessee Volunteers, but that doesn't mean he won't have a big impact on the Knoxville-based program.
Bowles, who is now a junior at UT-Chattanooga, is at the center of a shocking storyline in a massive federal lawsuit filed against the University of Tennessee.
Said lawsuit was filed by six female plaintiffs, who all claim the university acts with "deliberate indifference" in dealing with sexual assault and has created an environment where sexual offenders are enabled and accusers are discouraged.
The details of the lawsuit in its totality were detailed pretty comprehensively by The Tennesseean, but the specific story of how Bowles is related to the suit, as reported by the same paper, goes along the lines of this:
One night in November 2014, a female student-athlete (the plaintiff) alleged she was raped by two Tennessee football players.
Bowles, also a player for the Volunteers back then, took the woman to the hospital on that same night
Bowles then supported the woman's decision to take the matter to police.
Bowles' actions inevitably meant supporting a move that would implicate his fellow teammates. The players, according to the suit, were none too pleased.
Bowles was reportedly "jumped" by several teammates, said one witness. He was then assaulted a second time a couple days later.
Another eye-popping accusation made by the suit is that teammate Geraldo Orta put out a "hit" for Bowles.
By the next season, Bowles decided he no longer felt welcome on the Tennessee team and transferred to the much less acclaimed football program at Chattanooga.
The physical consequences Bowles went through, mind you, will have their day in court. So, in the spirit of discussing this matter responsibly, it's important to acknowledge we cannot yet take the lawsuit's allegations as gospel.
Whether or not the plaintiffs are vindicated in court, one thing seems clear: According to police interviews cited by the lawsuit, Bowles unquestionably experienced a hostile environment after helping a potential rape victim.
Orta, for instance, told police in those interviews he got "in [Bowles'] face" at an athletics dining hall and said some "threatening things."
According to the cited police interviews, then-teammate Curt Maggitt also confronted Bowles in the locker room before the team was, in Orta's words to the police, "instructed by head coach Butch Jones not to talk to [Bowles]."
It's safe to say this is the problem.
Even if we discount any story of how Bowles was assaulted, the picture still looks bad. As stated by multiple players in police interviews, the environment at Tennessee's football program was far from conducive to discouraging rape on campus.
Here we have to two people: a player who took an alleged rape victim to the hospital and the alleged victim herself. One was seemingly forced into transferring schools after experiencing intimidation and ostracism. Meanwhile, the other felt she had to join forces with five other women like her and go as far as filing a federal suit for her voice to be heard.
That is the result of one night in 2014 and that is a picture of a university whose culture, when it comes to this one very important issue of sexual assault, is ass-backwards.
Unless Tennessee's responsibility is to uphold the righteous, tried and true credo of "bros before hoes," the fact a player who tried to help an assault victim could become a victim himself is a sign something is wrong.
Bowles' story is indicative of a nationwide problem; colleges across the country are being accused of gross negligence in dealing with sexual assault.
Just this week, the Department of Justice released a study that concluded one in four women are sexually assaulted on college campuses and in 2014 another report concluded only 20 percent of assaults get reported.
Those are horrible figures. And the latter is not helped by stories like Bowles', which can easily discourage students from trying to help victims.
The subject of administrators' indifference toward sexual assault on campus gets even uglier once we consider just how much it seems accusers are impeded once an athlete is involved.
For example, Florida State University just paid $950,000 in a settlement to Erica Kinsman. Kinsman was the accuser of the recently-crowned NFL Rookie of the Year, Heisman winner and former FSU Seminole, Jameis Winston.
FSU agreed to pay that amount and "make a five-year commitment to awareness, prevention and training programs," USA Today reported. Kinsman sued the school for the same reason the women from Tennessee did: "deliberate indifference."
So, yes, what happened at Tennessee is messed up.
Sadly, though, it can't be all that shocking, not when colleges across the nation seem unwilling to take rape seriously enough.