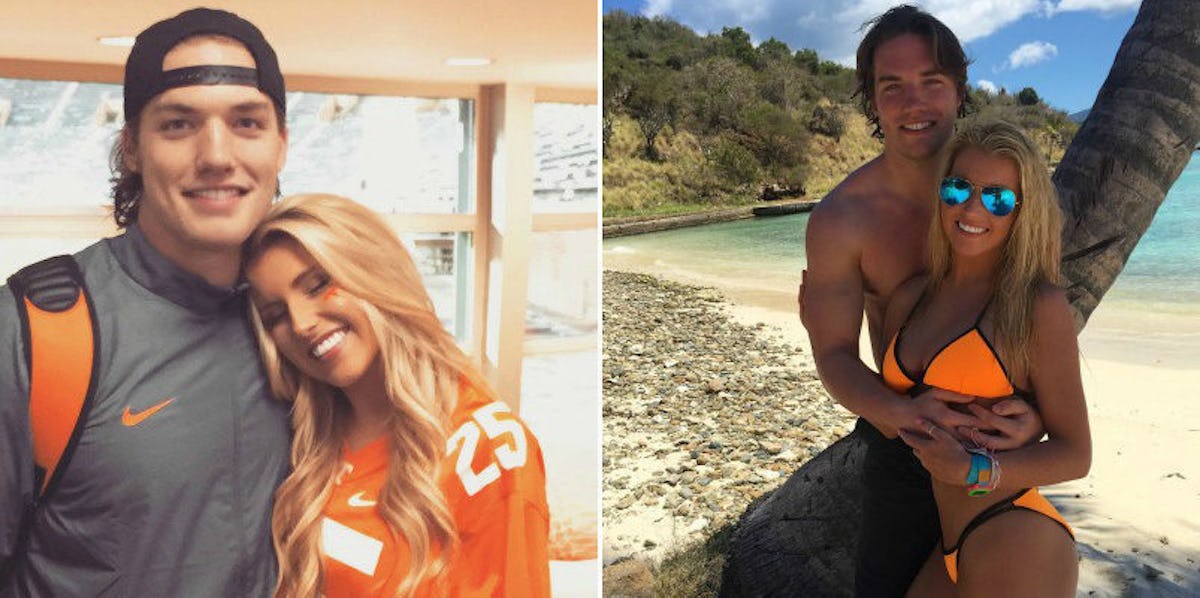 This Football Player's Hot GF Is Using Her Status To Make Money On Instagram
University of Tennessee Volunteers wide receiver Josh Smith is what you might call a "big man on campus." The sophomore is a Knoxville, Tennessee native, has unbelievable hair and is dating fellow UT student and Kappa Delta sorority sister Breana Dodd.
However, as big a deal as Smith might be, it's his girlfriend, Dodd, who is the real star in this relationship.
On top of being the more photogenic of the two, it appears Breana Dodd is now using her celebrity status to become the wealthier of the two. Judging from her recent Instagram post, it looks like Dodd is a University of Tennessee campus representative of sorts for the brand Jolly Rancher.
The caption which accompanies the above picture reads,
Even though #FinalsSuck I'm glad my friends from @jollyrancher made a pit stop to Rocky Top to make studying a little less dreadful. They're handing out some goodies on Pedestrian Walkway, grab some brain fuel #FinalsSuck #KeepOnSucking #ad
Regardless of how you feel about Dodd riding for Jolly Rancher, you have to admit the #KeepOnSucking campaign is pretty brilliant around finals time.
At the moment, Breana has 23,300 followers on Instagram, which means Jolly Rancher just got a pretty nice advertising boost.
Dodd is also paving the way for droves of college football players' girlfriends to get paid, too.
And, well, you can pretty much see why she's so successful.
Citations: College Football Girlfriends Are Now Getting Instagram Endorsements (The Big Lead)