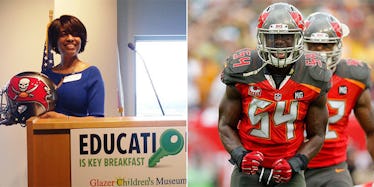 The Bucs Just Created A Cringeworthy NFL Education Program For Women
Facebook
Over the past few years, and who knows how much longer, the NFL has had a problem with domestic abuse and the way it views women in general.
Indeed, women have become the NFL's most important demographic in recent years, but a new program rolled out by the Tampa Bay Buccaneers shows just how much work we still have to do as a society.
Recently, the good folks in Tampa Bay's front office launched "RED: The Buccaneers Women's Movement," which, according to the team's website, is "a movement that will be led by the women of Tamp Bay, alongside the Buccaneers, to become innovators and leaders in changing the way football is enjoyed by women."
How do the Bucs plan to do this?
For starters, they're going to be implementing a "RED Term of the Week." This week's term is "Play Clock," in case you were wondering.
The team will also host a RED Launch Party at Raymond James Stadium on Thursday, September 10.
...a RED Lifestyle Lounge session to educate attendees on the art of incorporating their passion for the Bucs into their other lifestyle interests such as tailgating and home entertaining.
Seriously?!?!
I for one cannot wait for the RED Profile of Jameis Winston http://t.co/VKymW799cj — Mina Kimes (@minakimes) August 6, 2015
"Extremely condescending" is probably putting it lightly.
I find this move buy the Buccaneers to be extremely condescending towards women fans. Maybe I'm wrong. http://t.co/fP5yYfuA97 — mike freeman (@mikefreemanNFL) August 6, 2015
Get a clue, NFL.
Citations: The Buccaneers launched an embarrassingly sexist initiative to help women understand football (For The Win)