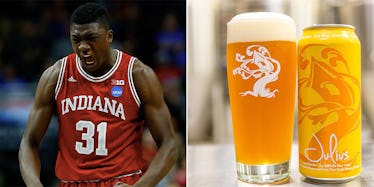 Every Sweet 16 Team And Their Craft Beer Equivalent, According To A Brewer
Getty Images/Instagram
You don't have to be a college basketball fan to know that beer and sports go together better than Ryan Reynolds and Blake Lively.
And, just like every team in this year's NCAA tournament, every beer has its own profile, flavor and finish.
Going with that concept, I spoke to Kevin O'Braskin, MBA, a home brewer and craft beer connoisseur who is studying craft beer sales and marketing, to see not only what I should be drinking for this weekend's Sweet Sixteen and Elite Eight games, but what each team's craft beer equivalent would be based on the above criteria.
Here's every Sweet Sixteen team and their craft beer equivalents, according to a hops hero.
South Region:
1 Kansas: Russian River Brewing Company "Pliny The Younger"
Like Kansas, Pliny the Younger has become a champion. A triple IPA that is high in demand due to the fact that it's not made very often. When it's available though, it's going all the way. Pliny is hoppy yet flavorful and smooth, and it clocks in at 10.25 percent ABV.
5 Maryland: Bell's Beer "Hopslam Ale"
You keep hearing about Hopslam and how good it is. It's on the shelves for more money than most IPAs at your standard beer distributor. When the time comes to drink it, you enjoy it, but you don't think it's worth the hype. Yes, it's strong, malty, hoppy and sweet, but no, it's just not as good as the other double IPAs you keep hearing about. Stop buying into Maryland!
3 Miami (FL): Lagunitas Brewing Company "Lagunitas Sucks (Brown Shugga Substitute Ale)"
When I was first making my way up the craft beer ladder, Lagunitas became one of my early favorites and a dependable option. Now that I've learned more and gone out of my way to try smaller brews, I've come upon the opinion that Lagunitas doesn't really do anything at a top tier level. Like in Miami's case, experience doesn't win you the crown.
2 Villanova: Evil Twin Brewing "Imperial Biscotti Break"
Brooklyn's own Evil Twin Brewing has made their arrival heard. Since 2010, Jeppe Jarnit-Bjergsø's beers have received rave reviews and are standing strong. Their beers are similar to Villanova in that they're constantly taking down their opponents by a large margin. If you haven't already, go pick up a bottle.
West Region:
1 Oregon: Southern Tier Brewing Company "Choklat"
Southern Tier has been a personal favorite for a long time. Choklat is an amazing dessert beer and perfect for chocolate lovers, but it seems that all of the other dessert beers are getting more recognition and hype. There's nothing bad about this beer, but people tend to pick other craft choices. Sounds a lot like Oregon.
4 Duke: Founders Brewing Company "CBS Imperial Stout"
Nobody would be surprised to see Founders in the final four. Founders has been around for what feels like forever. Its CBS Imperial Stout is brewed with coffee, imported chocolates and aged in maple syrup barrels. Founders is Duke. Duke is always at the top and always being talked about.
3 Texas A&M: Blue Moon Brewing Co. "Belgian White"
Wait, how'd these guys make it here?!
2 Oklahoma: Goose Island Beer Co. "Bourbon County Brand Stout"
Bourbon County is one of the best beers in the world and is only released on Black Friday, making it something very special. Bourbon County Brand Stout is to craft beer as Buddy Held of the Sooners is to the Sweet Sixteen.
East Region:
1 North Carolina: The Alchemist "Heady Topper"
I have UNC going all the way (and Heady is my absolutely favorite -- Grapefruit, Pineapple, Citrusy Double IPA). Oh yeah, find a friend, cousin, former roommate, pen pal, anyone who lives in Vermont, and get some of this ASAP.
5 Indiana: Tree House Brewing Company "Julius"
Let's discuss this Indiana emergence so far. Their top three guys are killing it right now, and so is Tree House. Tree House's IPAs are what's hot right now. New England Juice Bombs are the best thing to come out of Massachusetts since JFK, Romney, Tom Brady, Dunkin Donuts -- you get the picture.
6 Notre Dame: Dogfish Head Brewery "90 Minute IPA"
It's a good, good beer. Uhhhh that's all I got. Notre Dame, *does shrugging motion*.
7 Wisconsin: Sierra Nevada Brewing Co. "Pale Ale"
Similar to Notre Dame, errrr, Dogfish Head, it's a really good beer. If it's the best choice on a menu, I'll order it.
Midwest Region:
1 Virginia: Brewery Ommegang "Three Philosophers"
Brewery Ommegang is a solid brewery with a great lineup. It is absolutely GOOD beer, just like Virginia deserves to be in the Sweet Sixteen because they were a good, solid team throughout the regular season. While it wouldn't be shocking to see them move on, because they're consistent, it would be just as unsurprising if another team has a better night and knocks them out.
4 Iowa State: Bear Republic Brewing Company "Racer 5 IPA"
Racer 5 is complex, strong and has its hops piled on like a good West Coast IPA should. It hits you hard like Iowa State's offense. Some will enjoy it, some won't. Seriously, who enjoys defensive basketball anyway?
11 Gonzaga: Rhinegeist Brewery
I couldn't think of just one beer from Rhinegeist, but they're the Gonzaga of breweries. These guys came out of nowhere and started making some insane brews. Before you know it, they'll be on tap at every solid bar.
10 Syracuse: Sam Adams "Boston Lager"
I get it. Sam Adams is a legacy. Your older brother drank it. Your father may have as well. It was probably your first craft beer. Should they be in the Sweet Sixteen? Nope. Should Syracuse? Absolutely not.