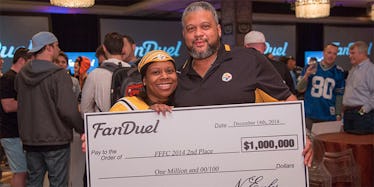 Here Is Exactly Why People Are Suspicious Of DraftKings And FanDuel
Facebook/FanDuel
The appeal of DraftKings, FanDuel and smaller companies like them is easy to grasp, and the picture shown above is a big part of why.
On its official Facebook page, FanDuel has that same picture posted with a caption describing a rags-to-riches story made possible by one of its fantasy football competitions.
The caption reads,
The happiest 2nd-place finisher in the history of sports? Eric Snead is a mailman from Virginia. He joined FanDuel this September. Never played fantasy football until this year. Qualified for the FFFC [FanDuel Fantasy Football Championship] with a $2 entry. And today, he finished 2nd. His life changed forever after winning $1,000,000 at today's FFFC. Congratulations on this incredible achievement.
For Eric, specifically, it's a dream story. For everyone else reading the story, and the many others like it who both DraftKings and FanDuel tout, the message is simple: You can achieve the same dream for a small price.
The story has sold.
Over a million people have signed up to play FanDuel and the company expects to award over $2 billion dollars this calendar year. DraftKings' official site says it expects to pay out over $1 billion by the end of 2015.
Professional leagues and networks have also got in on the action.
DraftKings can count Major League Baseball, NHL, MLS and Fox Sports among its stakeholders and, until recently, its presence on ESPN's studio shows was near-ubiquitous.
FanDuel, on the other hand, counts NBC and the NBA among its investors and has even recruited high-profile journalists to promote the site.
Everyone wins!
But like most things that sound too good to be true, DFS has its skeptics who have been intent on stirring a debate surrounding the games' legitimacy.
Those skeptics got their first significant controversy to fret over this week when DraftKings employee Ethan Haskell won $350,000 while playing in a FanDuel competition.
Both FanDuel and DraftKings insist no wrongdoing took place in relation to that particular employee's winnings, but critics point out the occurrence as something akin to insider trading.
After all, if a person at Company A has access to information only employees would, does he or she have an unfair advantage over non-employee DFS contestants while playing Company B's competitions?
That's the main thing asked after reports led by DFSreport.com, LegalSportsReport.com and the New York Times made questioning the legitimacy of Daily Fantasy Sports a national subject.
But even before this week, there were many questions for DraftKings and FanDuel to answer. Simply put, many critics have been skeptical for a while now, here's exactly why.
"Just Like Betting"
The law that has been most cited in the discussion of why DFS is legal is called the Unlawful Internet Gambling Enforcement Act of 2006.
Fantasy Sports are exempt from being considered a bet or wager as long as they satisfy these standards, as outlined by Cornell University Law School:
(I) All prizes and awards offered to winning participants are established and made known to the participants in advance of the game or contest and their value is not determined by the number of participants or the amount of any fees paid by those participants. (II) All winning outcomes reflect the relative knowledge and skill of the participants and are determined predominantly by accumulated statistical results of the performance of individuals (athletes in the case of sports events) in multiple real-world sporting or other events. (III) No winning outcome is based— (aa) on the score, point-spread, or any performance or performances of any single real-world team or any combination of such teams; or (bb) solely on any single performance of an individual athlete in any single real-world sporting or other event.
In other words, DFS competitions offered online are legal because they fall under the category of fantasy sports that require skill with results not based on final scores, point-spreads or the performance of one single athlete.
Most people who have an issue with the way DFS is treated by the law cite two things:
The first is that researching and making an educated guess on how many points a team will win a game by (which gamblers do), is not much different from doing research and making an educated guess on how many yards a group of players will gain.
"It's just like gambling," some might say, and for those people the next question is: Why are they treated any differently?
Shark Season
In an editorial for the Wall Street Journal, Cory Albertson, who is a serial winner along with his DFS partner, didn't even raise Haskell's winnings as the primary problem with DraftKings and FanDuel.
Instead, Albertson went off on the fact that "Sharks" who enter high-stakes fantasy games are allowed to prey on newcomers who are playing games that require $1 entry fees.
Albertson wrote,
For starters, no professional winning six-figures at daily fantasy should be flooding $1 and $2 one-on-one contests against novices... We have encouraged other high-stakes players to do the same. A fairer playing field should be the cornerstone of the industry. At minimum, the sites need to empower independent auditing and oversight of their operations—unless they want US congressmen to do it for them.
Any newcomer can find him or herself playing against a pro-player who has literally hundreds of entries into weekly fantasy football tournaments.
The guy who sees the commercial and signs up in his underwear has no idea he's playing a pro. https://t.co/kGDn1jtiZI — Haralabos Voulgaris (@haralabob) October 7, 2015
The ease with which Sharks can prey on unsuspecting rookies with a range of murky tactics, many of which were discussed in a notable Bloomberg interview of a pro DFS player, leaves DraftKings and FanDuel open to criticism.
No oversight
Because the DFS companies haven't faced significant pressure from the law yet, they've been allowed to operate in a fairly lax way with no obvious form of regulation.
Here is where this week's "scandal" hurt them most. Ethan Haskell may not have done anything "wrong," but there were no clear answers to the questions that many were asking in response to the suspicious event.
So, Ethan might not have broken any rules, but how many employees are allowed to have information that could comprise the integrity of DFS?
What policies are in place to ensure that no comprise is even possible? Can an employee access the ownership percentages of the top players in DFS?
Robins says he doesn't know how many DK employees play on FD. So how does FD know the % of money won by DK employees on FD? #DKLeak — Chris Grove (@OPReport) October 7, 2015
Robins: "This is more optics than anything." False. It's a window into the lax policies regarding data security and fraud at DK #DKLeak — Chris Grove (@OPReport) October 7, 2015
The fact DraftKings and FanDuel haven't provided any satisfying answers to these questions inevitably leads to more speculation and suspicion.
Making it hot
The last thing you want to do when there are valid questions as to whether your enterprise is legitimate is attract an excessive amount of attention to yourself.
But that's exactly what DraftKings did when it spent over $20 million, according to iSpot.tv, to continuously appear on your TV screen during Week One of the NFL season. And that's exactly what FanDuel is doing now as it has spent an estimated $14 million during the past seven days for TV advertising.
Think that doesn't matter? Think again.
Congressman Frank Pallone of New Jersey couldn't help but cite those annoying ads when he requested a congressional hearing to examine DFS.
Anyone who watched a game this weekend was inundated by commercials for fantasy sports websites, and it's only the first week of the NFL season... Despite how mainstream these sites have become, the legal landscape governing these activities remains murky and should be reviewed.
DraftKings and FanDuel made the block hot. Now they're catching the heat.