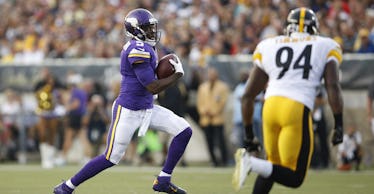 A DraftKings Employee Won $350K On FanDuel And People Are Suspicious
Getty Images
Both FanDuel and DraftKings insist no wrongdoing took place, but the damage was already done.
The integrity of Daily Fantasy Sports, an industry FanDuel and DraftKings reign over, is now being questioned after a DraftKings employee won $350,000 by finishing second in FanDuel's "NFL Sunday Million" competition.
The fact that such a large sum was won on a competitor's site by an employee, whose name is Ethan, is not noteworthy on its own.
The key point of suspicion, however, is the fact that the same employee erringly posted an article on the DraftKings website displaying information on the percentage of contestants owning certain players.
The fact that an employee could have access to such information -- never mind an employee who plays DFS on another site -- raised alarms, regardless of whether or not said employee used the info to "cheat."
A commentator on RotoGrinders.com echoed those sentiments.
ESPN reports DraftKings and FanDuel released a joint statement to say no wrongdoing took place in that particular instance.
And as Ben Brown stated on DFSReport.com, one of the sites to cover this story earliest, many indications point to Ethan having access to the information only after lineups for FanDuel were locked.
Both DraftKings and FanDuel temporarily suspended their employees from playing DFS in response.
But the attention was already attracted, and valid questions were raised such as which employees could have similar information to Ethan's or how much of a potentially unfair advantage can an employee of a DFS company have if he or she plays elsewhere?
In short, DraftKings and FanDuel's ability to ensure the integrity of DFS is in question.
Citations: DraftKings employee's big win raises doubts about transparency, integrity (ESPN)