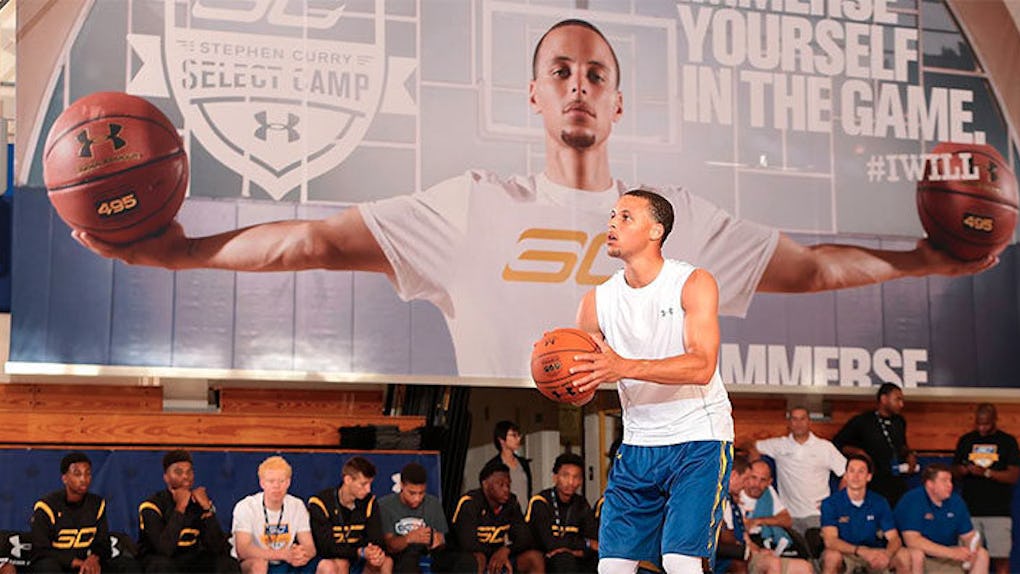 Under Armour
Steph Curry Winning MVP As The Face Of Under Armour Makes Perfect Sense
He was on the verge of tears.
As Steph Curry walked on stage to address the crowd that had gathered in his name, there was an audible crack in his voice.
You could tell just how special the moment was to him, too.
Here stood the man used to entertaining thousands on a nightly basis, now nearly overcome with emotion in front of just over a hundred.
No, it wasn't for his MVP award acceptance speech at the Golden State Warriors practice facility in Oakland.
It was nearly 3,000 miles away in New York City during NBA All-Star weekend, for the unveiling of his first signature shoe, the Under Armour Curry One.
There is a legitimate case, though, that it was just as big a moment for Curry as his fresh 2014-2015 league MVP win.
Curry's status as the face of Under Armour's budding basketball promotion highlights the player's arrival on the scene as a true superstar.
His being officially recognized today as the league's best player, further, not only thrusts Under Armour onto the exclusive list of sports brands to have sponsored an MVP award-winner, but also underlines just how special of a story the two partners have.
The @Warriors' @StephenCurry30 named 2014-15 @Kia NBA Most Valuable Player! #KiaMVPpic.twitter.com/1GHC2GzmeP — NBA (@NBA) May 4, 2015
Rarely, if ever, will you spot a brand trumpeting an emotional appeal under the guise of an underdog without having to take it with a huge grain of salt.
Under Armour and Curry feel differently.
On that February night at Manhattan's Marquee nightclub, the two parties opened the lid on every detail that makes their story so genuine.
There was the company CEO and opening speaker, Kevin Plank, the former University of Maryland football captain who started Under Armour from scratch after graduation.
Plank's rise to becoming a self-made billionaire began by handing out shirts to the athletes he'd met through playing high school and college football.
Look at Under Armour's numbers today, and you'll wonder how the company could possibly be younger than the legal drinking age.
By Plank's own account, Under Armour is one of just four S&P companies to increase growth by 20 percent from year to year.
In just under two decades, it has reached within touching distance of $1 billion in revenue. All that from a company whose popularity was sparked, essentially, by word of mouth.
Then there was the man chosen to narrate Curry's story, Jamie Foxx, who was selected by Plank with good reason. Plank met Foxx via the making of "Any Given Sunday."
Plank was getting one of his first big breaks when his shirts were chosen to be used in the movie. Foxx was getting one of his when he starred alongside Robert de Niro and Cameron Diaz.
That Foxx and Pelton would cross paths was no guarantee. Foxx only secured the role only after taking it upon himself to film a sample of what would become one of the greatest -- and catchiest -- scenes in sports film history.
Then there's Curry, who needs no introduction now, but not too long ago was far from the household name he's become.
In high school, he was the kid with the big NBA pedigree in his genes, but was also so small he literally shot from the hip.
By the time he was ready to graduate, he was denied his dream of playing for hid dad's alma mater, Virginia Tech, which declined to offer him a full scholarship.
Nevertheless, he still had the will to find his way.
In college, he led one of the greatest March Madness Cinderella stories of the decade with Davidson.
In the pros, his ascent to superstardom is only sweetened by the fact that it was threatened by complications with ankle injuries.
Even with the NBA trophy in his hand, Stephen Curry is exactly what his ads proclaim him to be, the Patron Saint of the Underdog.
It's only feels right, then, that he be the basketball face of a company that has taken on the underdog role in its own fight to achieve high-hoops status.
On that night three months ago in New York, Plank, whose company is aiming to build a $1 billion basketball brand, promised "this is just the beginning."
The commercial the CEO would later unveil alongside Foxx features the actor warning everyone: Curry, who's shooting for his first NBA title, "is about to write his own story."
If this truly is just the start for the NBA's newly-crowned king and Under Armour, the continued plot of their underdog story should be as amazing as it is genuine.