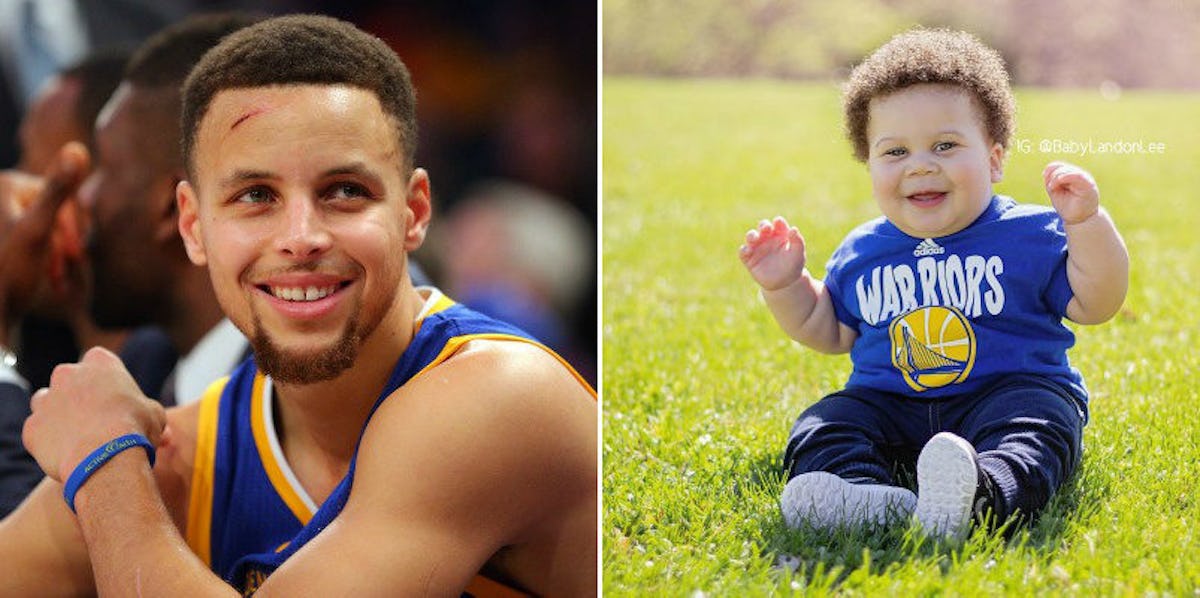 Steph Curry Has A Baby Doppelgänger Called 'Stuff Curry,' And He's Adorable
You're already well acquainted with Golden State Warriors star Steph Curry's adorable daughter Riley, but have you met his baby doppelgänger, Landon?
Baby Landon Lee has over 35,000 Instagram followers, thanks to two things: his cuteness and his likeness to Steph Curry.
Yeah, this kid's freakin' adorable, and his mom, Jessica Benton, who runs the "Stuff Curry" Instagram page, knows it. However, according to reports, Benton didn't know why someone called her son "Stuff Curry" at first.
Apparently, Landon Lee went viral back in February when someone called him "Stuff Curry" on social media. Following that nickname, a host of fat-shaming comments reportedly flooded the comments on Lee's pictures.
Additionally, Jessica Benton didn't even know whom Steph Curry was when the initial comment was made, but after realizing her son was being dubbed a baby doppelgänger of the reigning NBA MVP, she decided to make the negative comments work to her and Landon's advantage.
Benton told ESPN reporter Darren Rovell,
I wanted to really turn it into something good and take control of it and say, 'OK, we're gonna own this name. Yeah, we're Stuff Curry. We look like the famous basketball player.'
Benton reportedly lost her older son to suicide while she was pregnant with Landon. She acknowledges her son told her he was bullied at school, but she didn't realize just how much the teasing impacted him.
She clearly wasn't going to allow Landon to get hurt. Instead, using the Baby Landon ("Stuff Curry") Lee Instagram account, Benton is owning her son's likeness to a star and celebrating him for who he is.
Baby Landon Lee is the adorable little dude who shares a likeness with NBA superstar Steph Curry.
Initially, Landon was dubbed "Stuff Curry" by an alleged fat-shamer on social media...
...however, his mom, Jessica Benton, chose to take the shaming head on and use "Stuff Curry" to Landon's advantage.
After all, this little dude is out here just trying to live his life like the rest of us.
Benton wasn't about to let people on social media intimidate her son, so she owned it instead.
Like, you really trying to give Landon Lee a hard time right now?
Because it looks like this adorable Steph Curry doppelgänger doesn't have any extra time to spend on the haters.
Don't even think of interrupting Landon when he's taking a bath...
...or else you'll get scored on with the quickness.
Baby Landon "Stuff Curry" Lee, you are truly the real MVP.
Citations: Mom Of 'Stuff Curry' Has A Powerful Message For All The Fat-Shamers Out There (Huffington Post)