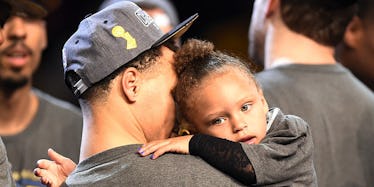 People Are Making Hilarious Captions For That Viral Riley Curry Video
USA Today Sports
Tuesday was Stephen Curry's big day, which meant it was going to be an even bigger day for Riley Curry, realistically.
So even though Steph had been named league MVP for a second consecutive year and was making his acceptance speech after a monster performance the night before, most of the attention online shifted to his daughter Riley, who stole the show.
She just wouldn't pass the media without making sure her presence was felt.
And like any moment of social media gold, the Internet took Riley's cameo and ran with it.
Here are the best renditions of Riley's moment.
Rley https://t.co/CleF0laWYG — Bleacher Report (@BleacherReport) May 10, 2016
When your best friend see ur boyfriend at the club pic.twitter.com/pyJrHuuQT1 — SoulSwipe (@soulswipeapp) May 10, 2016
Riley Curry reminding the media who to vote for next year…or else (via @abc7newsBayArea) https://t.co/02oUhPOgi5 — Bleacher Report (@BleacherReport) May 10, 2016
Oh, and perhaps Steph deserves some mention, doesn't he?
The Golden State Warriors' guard, otherwise known as Riley Curry's dad, got some shine, too. His confirmation as the league's most valuable player came after a season during which he led the Warriors to the best regular season record in NBA history (73-9) and increased his own yearly points per game average by over six points (from 23.8 to 30.1).
Basically, what we're saying here is he's getting dangerously close to becoming as big a star as Riley, but don't hold your breath.