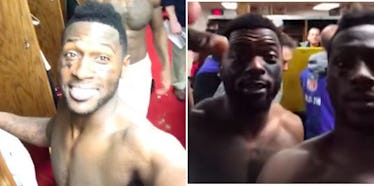 NFL Star's FB Live From Steelers Locker Room Catches Coach Bashing Patriots
Facebook
The Pittsburgh Steelers have been told to keep a low profile in the lead up to their New England Patriots playoff game next Sunday.
So what do they go and do? Erm, the complete opposite.
Steelers coach Mike Tomlin was filmed calling the Patriots "assholes" in a postgame locker room huddle after their victory against the Kansas City Chiefs.
In the 18-minute Facebook Live video, filmed by wide receiver Antonio Brown, Tomlin can be heard saying,
When you get this far in the journey, not a lot needs to be said. Let's say very little moving forward. Let's start our preparations. We spotted those assholes a day and a half. They played yesterday. Our game got moved to tonight. We gonna touch down at 4 o'clock in the fucking morning. So be it.
Ironically, he warns players to "keep a low profile" and step off social media before the big game, even though Brown continues to live-stream and the video remained on his Facebook page well into Monday morning.
Tomlin warns,
We'll be ready for that ass. But you ain't gotta tell them we coming... Keep a low profile. Keep it cool on social media, man – this about us and no one else... Keep your mouth shut.
The video goes on for another 15 minutes. Brown thanks supporters and says the team is "humble" and "grateful."
It's had more than 1 million views.
No word from Tomlin on how he feels about being caught mid-expletive rant after specifically telling players to avoid social media, but it's got to have rattled his cage.
And it's sure to provide a bit of pregame motivation for Tom Brady and the team, who'll be looking to dismantle Pittsburgh for a chance at the big leagues.
The Steelers will compete for their place in the Super Bowl at 6:40 PM ET on Sunday, January 22.