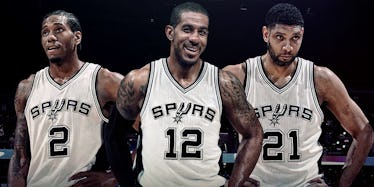 Guess Who's Back? The Spurs Are The Scariest Team In The NBA
Twitter/Bleacher Report
With news breaking yesterday of free agent David West opting to join the San Antonio Spurs next year (while playing for the veteran's minimum salary), the Spurs now have the roster they need to reestablish themselves as the NBA's top franchise.
David West is 34 years of age and has had a very long career by NBA standards. He will have earned over $80 million during his playing career heading into next season, along with the money he has accrued from endorsements.
He has been an All-Star, held a scoring average of over 20 points per game for an entire season and reached the Eastern Conference Finals. The only thing he has not done is win an NBA championship, and he deserves one as much as anyone.
West is a blue-collar player who is said to have always held positive relationships with teammates. He was relied on for scoring in New Orleans before signing with the Indiana Pacers and seeing his touches decrease.
Despite becoming more of a role player upon his arrival in Indianapolis, West never complained and became half of a Pacers front-court duo, along with center Roy Hibbert, reminiscent of the physically-imposing Indiana teams from the 90s, featuring Dale Davis, Rik Smits and Antonio Davis.
West is an old-school bruising enforcer in a league becoming more centered on skilled dribbling, no-look passes and silky-smooth jumpers.
His toughness helped the Pacers get to two straight Eastern Conference Finals series, but there was never enough in the tank to get past the Miami Heat.
That Pacers team has since been disbanded. Lance Stephenson is with the Los Angeles Clippers, and Indiana is actively shopping Roy Hibbert in a fashion to which West has reacted with open frustration.
The Pacers are looking to play smaller, faster basketball and West is looking to win a championship right now.
West commented on multiple occasions that winning, not money, was his primary focus. As such, the reports surfacing yesterday stating he opted to sign with a San Antonio Spurs should come as little surprise.
West's arrival, along with the signing of blue-chip free agent LaMarcus Aldridge, will allow Tim Duncan to rest to his -- or his coach's -- heart's content. It will give the Spurs a bully in the low post, and a viable offensive threat, capable of getting baskets from out to 15 feet.
Following the Golden State Warriors' championship run this year, there has been a lot of talk about the effectiveness of "small ball" in the NBA.
Small ball may have been an effective coaching strategy at certain points and probably even won the Warriors a few games, but it did not win them the championship.
The Golden State Warriors will continue to be a successful basketball team, not because they play small ball, but because they have great chemistry and even greater players, a recipe originally concocted by the San Antonio Spurs.
This past season was the first time we saw the Spurs' chemistry surpass the team's talent level. The Spurs of old were stacked with talented players, who all worked very well with one another.
In the 2014-15 season, we finally saw the effects of age on the likes of Tony Parker, Manu Ginobili and Duncan. The Big Three were able to capitalize on team basketball and their chemistry to make it to the playoffs. This is, however, before falling in the first round to the younger, more athletic and -- let's face it -- more talented Los Angeles Clippers.
The Spurs had their young star in Kawhi Leonard, and though the chemistry was never in doubt, the rest of the roster appeared to be fading fast after an incredible run lasting over a decade.
But, now, Leonard will also have nightly help with the offensive load from Aldridge, who has a game eerily similar to that of Duncan. Aldridge is also positioning himself to both improve his game and lengthen his career under the Big Fundamental's tutelage.
Meanwhile, the injection of All-Star talent like Aldridge, and the win at all costs unselfishness of the still-effective West, will give the Spurs' Big Three more time to rest, making them more effective come playoff time.